College students from eight universities recently formed teams and spent a month running a simulated insurance agency as part of a virtual online competition developed by PriSim War Games, a provider of computerized business simulation games.
The competition, hosted by InVEST and the Big "I" Diversity Council, was designed to teach students the basics of entrepreneurship, insurance agency management and business operations. Students entered their agency's business decisions into PriSim's agency management platform, taking responsibility for strategy, carrier and customer management, source management, staffing, sales and financial statements, according to a press release issued by Independent Insurance Agents & Brokers of America.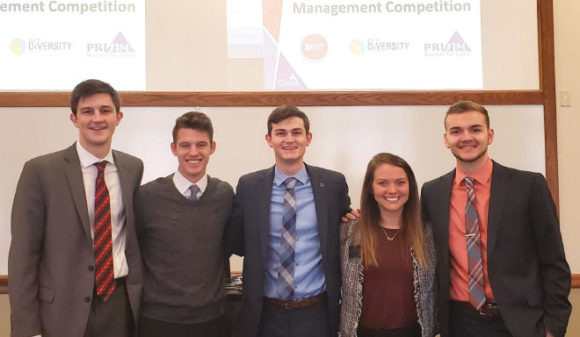 "The competition throws the students into the deep end of the pool in running an agency business," David Semb, partner at PriSim Business War Games and competition mentor, told Insurance Journal. "The experience for the students was intense, but full of opportunities for ah-ha moments."
Professors, insurance agents, a corporate partner and Semb mentored each team in the competition to understand real-world issues such as how to read a profit and loss statement, the impacts of staffing, market segmentation and more, the release stated.
"The students have the opportunity to work with an agency mentor who actually manages an agency," said Steve Danielson, market executive at ONI Risk Partners and mentor to Indiana State University's team. "This working relationship provides the mentor an opportunity to see first-hand how the students work as a team and understand the leadership dynamics for future consideration when the students graduate."
InVEST and the Big "I" Diversity Council announced Indiana State University, Ohio State University and the University of North Texas as the winning teams, with Indiana State University taking first place. "The competition was a unique hands-on learning opportunity for our insurance and risk management students," said Rebecca Wray, director of the Networks Financial Institute at Indiana State University. "Each student on the team contributed valuable advice throughout the competition and increased their knowledge of how to own and operate an insurance agency."
Most students who participated are majoring in insurance and plan to pursue a career in the industry once they graduate.
"This competition provided wonderful contacts all over the industry and gave me a great idea in what to look for when analyzing a successful agency," said Evan Rogers, a senior insurance and risk management major at Indiana State University who plans to begin his career in excess and surplus lines when he graduates this May.
Seth Payton, a senior insurance and risk management and accounting major at Indiana State University, agreed it was a great learning experience.
"I had never considered all of the decisions that go into running an agency and how each one can have a large effect on the bottom line of the business," he said. "I do plan to pursue a career in insurance. I am looking to start on the wholesale brokerage side of the industry, so seeing how an independent agency operates was extremely beneficial for me."
Instructors for the competition were tasked with catalyzing the students' understanding of the insurance industry, particularly agency operations, Semb said. Each team ran the agency in competition with seven other teams for four simulated years. The teams determined which customer segments to target and how to manage and operate their agency. But what set the winners apart?
"In an extremely competitive marketplace, three teams maximized their company performance," Semb said. "Some of the keys to their success were that they had very focused missions and strategies and were very clear about the customer segments they were targeting. In addition, they chose performance metrics that were tightly aligned to their strategies."
Danielson added the Indiana State students in particular spent a lot of time in the beginning to understand the terminology and data.
"Having this knowledge was a great foundation for them to make winning strategic decisions early in the competition without having to change their strategy much during the four-week period," he explained.
In between the competitive rounds, instructors recorded and posted video-lectures on strategy, finance and financial ratios for the students to view and learn from the prior to the next round, while also functioning as coaches and consultants, answering questions and holding 15-30 minute consulting sessions with the teams, Semb said.
In addition, a real-world agency mentor team from a nearby agency was assigned to each team as a resource to participate with the team and to support learning.
Payton said the main challenge in the competition was choosing the correct metrics that his team would eventually be graded on.
"This took a lot of time and discussion between team members and our agency mentor," he said. "In the end, we worked together and were confident in our decision."
Rogers added that one of the best parts of the competition was deciding which niches to focus on and how to reach set goals.
"It was an amazing experience to try and run a simulated agency," he said.
The PriSim War Games technology simulates the workings and dynamics of insurance agencies competing in a marketplace for profit and market share, Semb said.
The information used to design the Brokerage Challenge simulation is taken from real-world agencies operating in the marketplace, allowing the students to improve business skills, test new ideas and practice business strategy in a risk-free environment, he added.
"Participants are better prepared to apply the lessons learned, and to improve their performance, when they enter the workplace and make real-world business decisions," he said.
Indeed, many students from Indiana State University's team agreed.
"This competition has allowed me to make connections with others in the industry and is providing me an opportunity to learn as a young business professional," said Erika Perry, a junior insurance and risk management major at Indiana State University.
Christopher Graman, a senior insurance and risk management major at Indiana State University who is planning to begin his career as a personal lines/farm underwriter after graduation, added: "It was interesting to see five different ideas come together to form one entrepreneurial spirit."
Because of funding provided by participating Big "I" Diversity Council company sponsors, the winners of the competition will receive a trip to the Big "I" Legislative Conference May 8-10, 2019.
"This competition was a huge success across the board and winning was just a bonus," Payton said. "Outside of my internships, I learned more in the four weeks of this competition than I could have in a classroom or reading a book."
Was this article valuable?
Here are more articles you may enjoy.
From This Issue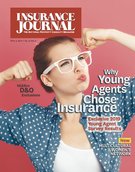 The Young Agents Issue – with Survey Results; Markets: Directors & Officers Liability