Washington D.C. Mayor Muriel Bowser is working alongside the district's Department of Insurance, Securities and Banking (DISB) to increase opportunities for high school and college students to pursue careers in financial services, including insurance, by expanding DISB's Financial Services Academy (FSA).
"Now, more than ever, young people need help in jump starting their careers in the financial services sector and elsewhere," DISB Commissioner Karima M. Woods told Insurance Journal.
The FSA is a public private partnership between DISB, local education institutions and private companies. It began nine years ago through a partnership with the Marion Barry Summer Youth Program and the Department's Bank on DC Program.
The Bank on DC program is a collaborative effort between district government, financial institutions, non-profit organizations and community organizations. It was initiated as part of a national campaign to address unbanked residents and provide financial education.
The FSA then expanded five years ago in partnership with Gallaudet University as an opportunity to afford deaf and hard of hearing students in the Gallaudet risk management program with internships within the Insurance Bureau, Woods explained.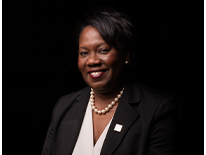 "DISB has been an invaluable partner with Gallaudet University, providing internships to students in our risk management and insurance program since 2016," said James Bruner, executive director for the Gallaudet University Maguire Academy of Risk Management and Insurance, in a DISB press release. "The internships have allowed students to learn about real life insurance issues, become problem solvers and learn how insurance regulation plays a vital role in protecting and educating consumers."
Bruner said program interns have moved on to work for insurance companies and brokerage firms, as well as pursue graduate school degrees.
DISB's vision now is to grow the FSA to include an expanded number of internship opportunities in the Insurance Bureau as well as opportunities in the Securities and Banking Bureaus to encourage as many young people as possible to pursue financial services careers, Woods said.
Its purpose is to introduce high school and college students, especially underrepresented students, to the financial services sector and eliminate barriers such as unpaid internships or scarce pre-career opportunities, as well as build pathways for all communities to gain full-time employment in insurance, securities and banking.
"Unpaid internships can often be a barrier to participation for many students who count on income to help fund their education," Woods said.
The FSA will offer paid internships to encourage participation from all students regardless of their financial situation. The academy is comprised of its year-round internship program, year-round externships, its Bank on DC Young Money Managers Program, the DISB SYEP Insurance Internship Program and the DISB SYEP Securities Internship Program.
Within the Insurance Bureau in particular, FSA participants not only learn about the regulation of insurance and the responsibilities of bureau staff, but they are able to conduct research on a variety of topics. Prior students have done research on the insurance impacts of telematics, artificial intelligence, voice activated controls, wearable devices and cryptocurrency, Woods said.
"I am confident that our partnerships will allow us to create pre-career opportunities through our sister agencies, industry partners and local universities," she said.
FSA partners include the Department of Employment Services, DC Public Schools and the Office of the State Superintendent of Education, local colleges and universities and local industry organizations. Woods said she sees an exciting road ahead for the FSA and the career paths it will foster for D.C. residents.
"The Bowser Administration is committed to building pathways for all communities to successfully gain full-time employment in the insurance, securities and banking industries," she said.
Topics Washington
Was this article valuable?
Here are more articles you may enjoy.