Inga Beale, CEO of Lloyd's of London, has been named an outstanding lesbian, gay, bisexual and transgender (LGBT) executive role model by the London-based LGBT business organization OUTstanding and Financial Times.
Beale, ranked the #1 LGBT role model, is one of six insurance executives named to the list of 100 LGBT senior executive role models.
Beale was cited for the launch of Pride@Lloyds, an internal LGBT employee resource group, and her support of the LGBT insurance employee network LINK.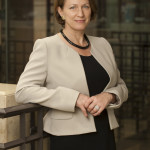 OUTstanding, an organization for senior LGBT business executives, compiles its list of 100 senior LGBT executives annually, along with a list of straight executives who are strong supporters of LGBT employees and diversity in the workplace.
Nominees for the list are viewed as "senior role models who are helping to make the workplace a more welcoming place" and are considered "successful senior LGBT executives working one to three levels from the chief executive."
OUTstanding calls Beale "one of the few – perhaps the only – openly bisexual business leaders at her level."
Others from the insurance sector named as 2015 OUTstanding LGBT role models are:
Jan Gooding, group brand director, Aviva
Angela Darlington, group chief risk officer, Aviva
Geoff Godwin, UK chief operating officer, AIG
Richard Beaver, distribution director, Swinton Insurance
Nick Major, chief underwriting officer, Zurich Insurance
Beale discussed making Lloyd's a more comfortable place for gays and lesbians and the Pride at Lloyd's event in a recent
interview with Carrier Management's
Susanne Sclafane at the IICF Women in Insurance Global Conference.
OUTstanding also named Greg Case, president and CEO of broker Aon, as a 2015 LGBT Ally, a list of 30 senior executives "who are outspoken and unwavering in their support for LGBT people in the workplace."
Was this article valuable?
Here are more articles you may enjoy.