PERILS, the independent Zurich-based company providing industry-wide catastrophe insurance data, has extended its market coverage to include Australia.
PERILS now provides market-wide property sums insured that are exposed to the perils of bushfire, earthquake, flood, hail, and tropical and extratropical cyclones in Australia via its database. I
n addition, PERILS will provide event loss data for any events above a market loss of AUD 500m caused by the aforementioned perils.
The addition of Australia brings to 15 the number of territories currently covered by PERILS, which also includes: Austria, Belgium, Denmark, France, Germany, Ireland, Italy, Luxembourg, the Netherlands, Norway, Sweden, Switzerland, Turkey, and the United Kingdom.
PERILS collects property sums insured and event loss data from primary insurers in Australia per postcode (high-resolution CRESTA Zones) and property line of business. Based on the collected data, PERILS produces an independent and objective data set of market exposures (total sums insured) and market event losses.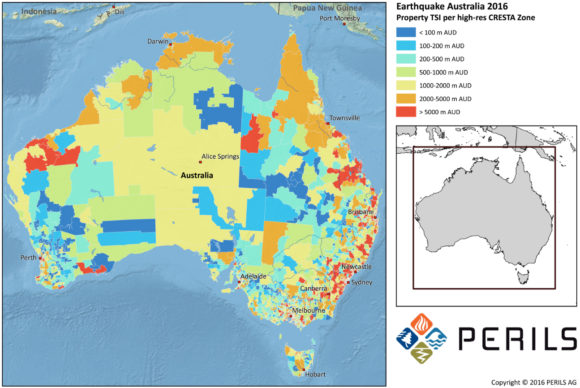 This information can be used for a range of applications, including for industry loss-based risk transfer products such as industry loss warranties and insurance-linked securities, as well as catastrophe risk model validation.
Luzi Hitz, CEO of PERILS, said the inclusion of Australia represents the first addition of a country within the Asia- Pacific region in the company's market coverage. Going forward, the company plans to add more territories in Asia-Pacific.
PERILS is an independent Zurich-based organization providing industry-wide natural catastrophe exposure and event loss data. The PERILS Industry Exposure & Loss Database is available to all interested parties via annual subscription. The database contains industry property sums insured and event loss information for 15 countries on a CRESTA zone level and per property line of business. PERILS industry loss estimates, provided via the PERILS Industry Loss Index Service, can be used as triggers in insurance risk transactions such as industry loss warranty contracts (ILW) or insurance-linked securities (ILS).
Was this article valuable?
Here are more articles you may enjoy.