Fallout from the Genoa bridge disaster has erased about $2 billion of net worth from one of Italy's richest families.
The billionaire Benettons control 30.25 percent of Atlantia SpA, the construction company and toll-road owner that operated the Morandi Bridge that collapsed last Tuesday, killing at least 43 people. The Atlantia stake is their single-largest asset, comprising more than a third of their $13.3 billion fortune, according to the Bloomberg Billionaires Index.
A spokesman for the Benetton family holding company declined to comment.
The Rome-based builder's stock has plummeted 26 percent to a four-year low in the wake of the tragedy as the government moves to start the process of ending the company's concession. The family has offered aid to help victims of the disaster and support the repair of severed transit links while Atlantia's toll-road division, Autostrade per l'Italia SpA, has set up an initial 500 million euros ($574 million) fund for victim compensation and reconstruction.
The family's flagship fashion retailer, which originated from a single knitwear store founded by siblings Luciano, Gilberto, Giuliana and the late Carlo in the 1950s, is now one of about of a dozen assets owned by the family's investment company, Edizione Holding SpA.
Including Atlantia, the family controls $9.3 billion worth of shares in publicly traded companies, including 3 percent of Assicurazioni Generali SpA and 29.9 percent of Spain's Cellnex Telecom SA. They also own closely held assets including Argentinean farmland and the Treviso rugby team.
Their broad portfolio has helped them accumulate one of the biggest personal fortunes in Italy. Only a small handful of families and individuals, including the chocolate-making Ferreros, Luxottica Group SpA founder Leonardo del Vecchio and Walgreens Boots Alliance Inc. Chief Executive Officer Stefano Pessina, are wealthier.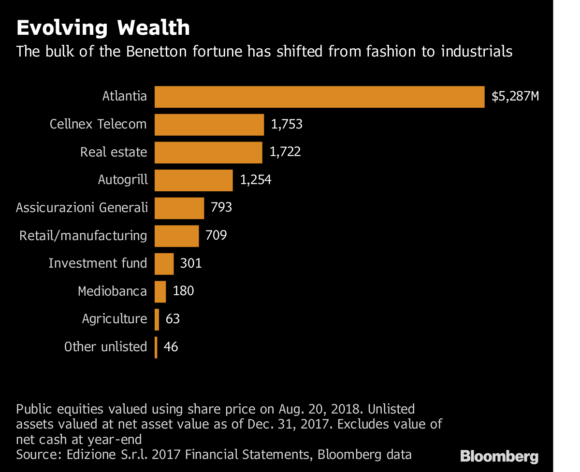 Related:
Copyright 2021 Bloomberg.
Was this article valuable?
Here are more articles you may enjoy.