Lockton MENA Ltd. has appointed Ata Khatib as its new chief executive officer.
Based in the Dubai International Financial Centre (DIFC), Khatib will lead the broker's subsidiaries in the Middle East and North Africa (MENA) region, said a statement from Lockton, the Kansas City, Mo.-based private insurance broker.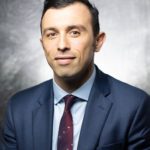 Khatib brings a deep-rooted experience of the region to the role, from first setting up Lockton's offices in the DIFC in 2009 to becoming deputy CEO of Lockton MENA and sitting on its board. His regional and international relationships have helped Lockton MENA provide the best service and exceed the expectations of clients, said Lockton.
Khatib succeeds Tony Saada, who will focus on his responsibilities as regional CEO for MENA as the company continues to build the Lockton brand across the region. Lockton MENA in the Dubai International Financial Centre will continue to oversee the other recently opened offices in the region.
Source: Lockton
Was this article valuable?
Here are more articles you may enjoy.