Burglars overnight broke into England's Blenheim Palace [on Saturday, Sept. 14], the birthplace of Winston Churchill, and stole an 18-karat gold toilet on display as part of an art exhibition.
The thieves took the "high-value" item, causing significant damage and flooding, and left just before 5 a.m., according to a statement Saturday from Thames Valley Police. A 66-year-old man has been arrested in connection with the incident, but the piece of art hasn't been recovered, police said.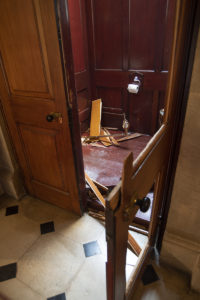 The functioning gold toilet is the work of Italy's Maurizio Cattelan, whose art is being featured at the palace. The site is closed due to an "unforeseen incident," its website shows. Blenheim Palace, a World Heritage Site, is a more than 300-year-old mansion where World War II leader Churchill was born in 1874.
WATCH THE THRONE: Thieves in England pulled off an 18K robbery, stealing a golden toilet from the birthplace of Winston Churchill pic.twitter.com/h0GeLLHMpu
— Bloomberg TicToc (@tictoc) September 14, 2019
Visitors were welcome to use the 2016 piece, titled "America," during their visit, according to the Blenheim Art Foundation's website. The exhibition opened Thursday and is scheduled to run until Oct. 27. Time slots to visit the toilet were no longer available to book on Saturday.
[Editor's note: In a Sept. 17 update, the Blenheim Palace media team said the public is now allowed to view the crime scene, where the golden toilet was once installed].
Police are carrying out a "thorough investigation to find it and bring those responsible to justice," according to the statement. Police believe the burglars used at least two vehicles and are "appealing to anyone who saw or heard anything suspicious" to contact them.
Photograph: The main photograph, made from a video, was taken on Sept. 16, 2016. It shows the 18-karat toilet in the restroom of the Solomon R. Guggenheim Museum in New York, where it previously had been on display. It was stolen on Sept. 14 from Blenheim Palace near London, where it had been installed only two days earlier. Source: AP
Copyright 2021 Bloomberg.
Was this article valuable?
Here are more articles you may enjoy.