Insurance law firm Clyde & Co has appointed two independent board members to its management board – the first such positions at the firm. Former Lloyd's of London CEO Dame Inga Beale and former Grant Thornton US CEO Stephen Chipman will join the management board on 1 January 2020.
Peter Hirst, senior partner at Clyde & Co., said Beale will play an "important role supporting our drive to materially improve diversity and inclusion across our firm to ensure we can offer clients the diversity of thought, talent and skills that they increasingly demand."
Beale was CEO of Lloyd's of London between 2014 and 2018. She has held senior leadership positions across the insurance sector globally including as Group CEO at the (re)insurance groups Canopius and Converium, and has previously held management positions at Zurich Insurance and GE Insurance Solutions. She is also known within the insurance market for championing diversity, including increasing female participation in senior management to one-third at Lloyd's and acting as one of the leaders behind the Dive In Festival, a worldwide event that celebrates diversity and inclusion in the insurance sector.
Chipman has held senior roles across Grant Thornton for the past 20 years, most notably as CEO for the firm in the U.S. and China. In 2016 he became CEO of technology-enabled business services company Radius and subsequently held the role of group managing director, International Expansion Services when Radius was acquired by Vistra in 2018.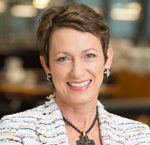 Was this article valuable?
Here are more articles you may enjoy.