QBE Insurance Group announced that Michael (Mike) Wilkins has been elected to succeed W. Marston (Marty) Becker as chairman of the group board.
Wilkins will step into the role of group chairman on March 1, 2020, and Becker will retire from the board on April 30.
Wilkins joined the QBE Group Board as a non-executive director in November 2016, after a lengthy career in the insurance industry. He is currently deputy chairman of the People and Remuneration committee and a member of the Audit and Operations and Technology committees.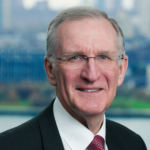 He was previously the managing director and CEO of Insurance Australia Group (IAG) and held the roles of managing director and CEO of Promina Group and managing director of Tyndall Australia Ltd. He is currently a non-executive director of Medibank Private and has previously served as a director of AMP Ltd., Alinta Ltd., Maple-Brown Abbott Ltd. and The Geneva Association.
"It is an enormous privilege to be elected to the role of group chairman of QBE and I thank the board for their confidence and support," said Wilkins.
"I would like to pay particular tribute to Marty Becker and acknowledge his enormous contribution to QBE over the past seven years," he added. "The board has benefited greatly from his experience and wisdom and I am personally grateful for his friendship and support over our time working together."
Becker joined the QBE Insurance Group board in August 2013, after a long career in the general insurance industry in the U.S., Bermuda and the UK. He was elected group chairman in 2014.
"It has been a great honor to serve as a director and as group chairman of QBE over the past seven years, as we have steered QBE to become a simpler, more globally connected and stronger organization," said Becker.
"I believe the time is now right for me to step down and for a new chairman to bring fresh ideas and perspectives to QBE," he added. "I am delighted the board has chosen Mike Wilkins to succeed me. He is an exceptionally well credentialed director, and I wish him and the board every success in the future."
Group CEO Pat Regan thanked Becker for his stewardship of QBE, along with his industry knowledge, experience and counsel which, he said, were invaluable to him.
Source: QBE Insurance
Was this article valuable?
Here are more articles you may enjoy.