SCOR announced that Olivier Gay has been appointed chief executive officer for SCOR Canada Reinsurance Co., succeeding Paul Christoff, effective June 11, 2021.
Gay will continue to serve as chief underwriting officer for SCOR Canada and will report to John Jenkins, CEO of Reinsurance Operations for the Americas. In this expanded role, Gay will oversee all facets of the Canadian operations.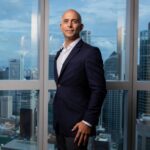 Gay joined SCOR in 2010 and has held positions of increasing responsibility, including chief underwriting officer for SCOR Canada Reinsurance. Prior to relocating to Canada, he served as deputy chief financial officer for the SCOR Asia-Pacific region, based in Singapore. Before that, he worked in the Paris office for SCOR Global P&C as the head of Capital Management & Financial Analysis and as chief accounting officer.
He is a French citizen and a graduate of the French Business School of Nantes, where he obtained a master's degree with a major in corporate finance and business administration.
Source: SCOR
Topics Reinsurance Canada
Was this article valuable?
Here are more articles you may enjoy.