This edition of International People Moves details appointments at Liberty Specialty Markets, Amwins Global Risks and Lockton Re.
A summary of these new hires follows here.
Liberty Specialty Markets Appoints AXA XL's Harth as Germany's Country Manager
Liberty Specialty Markets (LSM), part of Liberty Mutual Insurance Group, announced that Michael Harth will be joining the company in January 2022 as country manager for Germany.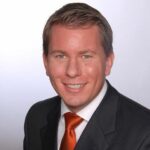 He will report to Kadidja Sinz, head of Central Region, and will be based in Cologne.
Harth will be responsible for leading the team in Germany to deliver the strategy and objectives for LSM's insurance business in the region. He will take over from Angelika Gasser, current interim country manager who will stay in charge until Dec. 31. She will work closely with Harth in her role of deputy general manager Insurance Germany and her Underwriting Management role.
Harth has over 15 years of experience in the insurance industry leading several successful businesses for major industry players both on the insurer and broker side. He will be joining LSM from AXA XL where he was head of Broker, Client, Portfolio Solutions & Revenue Synergies Management Europe, and a member of the Executive and Operational Management Board.
***
Amwins Global Risks Hires Ed Broking's Keenan as Head of Construction & Engineering Practice
Amwins Global Risks, the specialist insurance and reinsurance broker and subsidiary of Amwins, announced the appointment of Gary Keenan in the role of head of construction & engineering. Keenan will take over from current managing director, Steve Willsmer, who retires at the end of this year.
Keenan joins from Ed Broking where he held the role of divisional director. He previously worked for Miller Insurance Services.
"We are delighted to be welcoming Gary to the team, and we thank Steve for his dedication and hard work over the last 13 years to build out our construction and engineering portfolio," commented Mark Cody, chief executive officer of Worldwide Specialty, a division of Amwins Global Risks.
"We view this segment of the industry as key to our future proposition and our aim is to build a core of excellence in this class, under Gary's leadership and to take full advantage of his wealth of global expertise," Cody added.
Amwins Global Risks serves clients and markets in the UK and internationally, placing more than $2 billion annually of premium into the London and global marketplace.
***
Former Marsh Exec Tigleanu to Join Lockton Re's Cyber Practice
Lockton Re, the global reinsurance business of the world's largest privately held independent insurance broker, announced that Monica Tigleanu will be joining its Specialty Division as part of the Cyber Practice.
Tigleanu was most recently SVP Cyber, Media & Technology at Marsh Specialty, having joined the business in 2018. Prior to that, Tigleanu held a number of underwriting positions at both Beazley and AIG, having worked in both London and Canada.
"We continue to invest heavily in our Cyber practice, and we're excited to welcome Monica to the team in London having recently also added Ram Ramakrishnan," commented Paul Upton, head of the Speciality Division, Lockton Re.
"Monica is a recognized voice in the cyber and technology space and will provide our expanding client base with deep insight on managing and mitigating their exposure, drawing on her considerable experience both on the broking and underwriting side of the business. We are building our capability in the cyber space with a focus on deep technical understanding and reinsurance expertise supported by our powerful structuring and modeling capabilities," Upton continued.
Topics Cyber AXA XL Construction Lockton Germany
Was this article valuable?
Here are more articles you may enjoy.