Insured losses from major natural catastrophes in 2021 – excluding COVID-related losses – have so far reached an estimated US$116 billion, the third largest total since 2011, and about 63% higher than the average loss of $71 billion since 2011, according to Gallagher Re.
The total was driven by a series of extreme weather-related events in the U.S., and the second most severe flood event ever experienced in Europe.
Like the peak insured natural-catastrophe loss years of 2017 ($143 billion) and 2011 ($120 billion), multiple events are responsible for the large losses, said a report published by Gallagher Re, the reinsurance division of global brokerage, risk management and consulting services firm Gallagher.
The largest losses of the year were caused by tropical cyclones with 35% of the overall losses, and severe thunderstorms caused 25% of the annual loss, said the report titled Gallagher Re Natural Catastrophe Events Report 2021.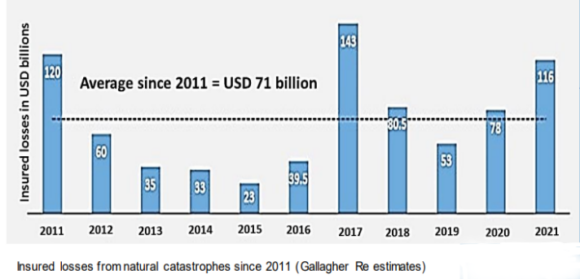 By region, North America accounted for the largest proportion of the loss at 68%, followed by Europe, Middle East & Africa (EMEA) at 23%, Asia Pacific at 8% and Latin America and the Caribbean at 1%.
The largest single loss event was Category 4 Hurricane Ida in August, which is expected to cost insurers more than $37 billion, making it the fifth-costliest on record.
With 21 named storms, the North Atlantic hurricane season was the third most active on record, the sixth consecutive above-normal year, and the second consecutive year when NOAA's bank of 21 of storm names was exhausted, said the report.
In Europe, the largest loss-causing event came in mid-July with Storm Bernd causing more than $13 billion in insured losses. Affecting mainly Germany and Belgium, Storm Bernd remained stalled over saturated soil in central Europe due to weak a jet stream. It resulted in the largest German flood loss on record.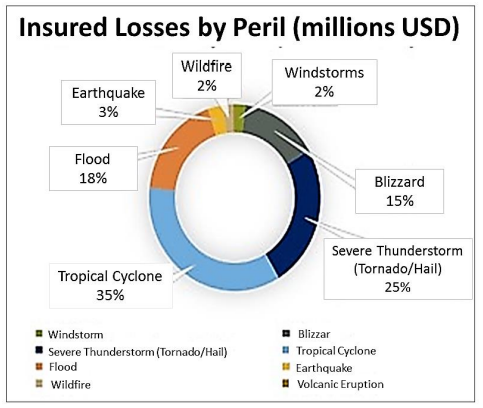 In Asia, the 2021 season saw no single typhoon making landfall in Japan, in contrast with the tropical cyclone losses observed there during 2018/19. Asia's most notable event was the flooding of the Province of Henan, China, between July 19 and 21, 2021. To date, this event has caused 302 fatalities and insured losses of more than US$1.92 billion, said the Gallagher Re report.
Despite the active North Atlantic hurricane season, the highlight of the year for Latin America and the Caribbean was the absence of significant insured catastrophe events, which is reflected in low insured loss totals, said the report.
The most damaging event for the region occurred on Aug. 14 when a 7.2 magnitude earthquake struck Haiti, causing over 2,000 fatalities. Economic losses reached approximately US$1.6 billion with insurance covering only about US$250 million of that amount, said the report. "This further highlights the protection gap faced by less economically developed countries in the region."
"With the large loss experience in 2021, catastrophe models are firmly in the market's headlights. They remain pivotal to enabling conversations around pricing adequacy, secondary perils, climate change, and systemic connectivity of risk, but it has become essential to ensure we understand what models can and cannot contribute to the conversation," commented Yingzhen Chuang, Gallagher Re's regional director of International Catastrophe Analytics.
"By necessity, summarizing a complex global picture requires some simplifications. However, it is clear that carefully contextualizing global loss experience is essential to an industry founded on managing volatility and uncertainty," Chuang added.
James Vickers, chairman International, Reinsurance, at Gallagher Re, said: "It was a heavy year for natural catastrophes, despite the absence of a very significant single loss event. Notably, claims originating from secondary perils were substantial. That perhaps calls for an industry-wide redefinition of the phrase, and is certainly a phenomenon that underwriters are paying close attention to."
Topics Carriers Catastrophe Natural Disasters USA Profit Loss Europe A.J. Gallagher
Was this article valuable?
Here are more articles you may enjoy.