A southeastern Michigan community has told federal officials that its plans to comply with a flood insurance program include taking a resident to court to make him raise his home.
The Monroe News reported Saturday that Estral Beach President Danny Swindle said in a letter this week to the Federal Emergency Management Agency that the village also would attempt to get the homeowner's certificate of occupancy revoked.
Estral Beach could lose its flood insurance if the home isn't brought up to code and raised above the flood plain of 579 feet.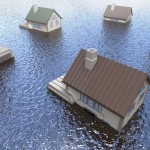 FEMA has threatened to put the village on probation for the National Flood Insurance Program which would raise premiums by $50 for about 210 homeowners.
The village of about 410 people is along Lake Erie, southwest of Detroit.
Copyright 2020 Associated Press. All rights reserved. This material may not be published, broadcast, rewritten or redistributed.
Was this article valuable?
Here are more articles you may enjoy.