The National Weather Service has confirmed that storm damage in Tolna, N.D. was caused by a tornado.
The tornado last week was rated an EF-1, with an estimated peak wind speed of 110 mph. It was on the ground for about 4 minutes, covering about half a mile.
The twister uprooted trees, bent a communications tower, blew a storage building off its foundation and knocked out electricity for a time.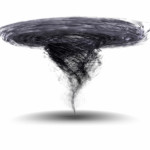 No injuries were reported.
Copyright 2020 Associated Press. All rights reserved. This material may not be published, broadcast, rewritten or redistributed.
Was this article valuable?
Here are more articles you may enjoy.