Iowa Insurance Commissioner Nick Gerhart has resigned from his office effective Dec. 23, 2016.
Deputy Commissioner Doug Ommen has been named as interim insurance commissioner upon Gerhart's resignation.
"I'm honored to have had the chance to serve Iowans by leading the Iowa Insurance Division, however both myself and my family feel that as my term is ending, now is the right time to move forward to other opportunities and focus on our family as it continues to grow," Gerhart said in announcing his resignation. "Iowans are in good and capable hands with Doug Ommen as their interim insurance commissioner."
Appointed by Gov. Terry Branstad, Gerhart began his service as insurance commissioner in February 2013. He has served on the National Association of Insurance Commissioners (NAIC) Executive Committee, chair of Life and Annuity (A) Committee, member of Financial Condition (E) Committee and International (G) Committee. In addition, he is a board member of the National Insurance Producer Registry (NIPR).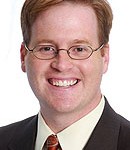 He was named by the U.S. Treasury in 2014 to serve on the Federal Advisory Committee on Insurance (FACI) that advises the Federal Insurance Office on domestic and international policy. Gerhart has represented the NAIC at the International Association of Insurance Supervisors and at the EU-US Dialogue project.
Gerhart also led the team that created the Global Insurance Symposium in Des Moines, Iowa, an event that attracts over 400 people from all over the world to discuss emerging issues in insurance.
"I want to thank Nick Gerhart for his service as Insurance Commissioner to the state of Iowa," Branstad said in the announcement naming Ommen as interim commissioner. "He is a bright and talented individual who focused on protecting the public while making the industry better and more competitive in our state. I want to wish him the best in his future endeavors."
Ommen is an attorney and insurance regulator with more than 30 years of experience in public service. He has served as Deputy Insurance Commissioner in Iowa since 2013.
Prior to his service in Iowa, Ommen served as Missouri's insurance commissioner under Gov. Matt Blunt and provided leadership in consumer protection in the administrations of Attorneys General Bill Webster, Jay Nixon and Chris Koster in Missouri since 1985.
Source: Iowa Insurance Division, Iowa Governor's Office
Related:
Topics Iowa
Was this article valuable?
Here are more articles you may enjoy.