Plaintiffs in a landmark legal settlement related to Flint's lead-tainted water are accusing the city of failing to comply with the deal and are asking a federal judge to enforce it.
The Natural Resources Defense Council and American Civil Liberties Union of Michigan made the motion Wednesday night on the behalf of pastors and residents. They say Flint officials have made it impossible to monitor compliance with the court-ordered agreement from March, which requires the replacement of up to 18,000 lead or galvanized steel pipes and the installation of faucet filters.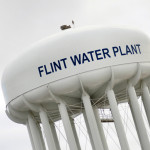 The motion accuses Flint of a "pattern of nonresponsiveness, delay and noncompliance" with required information-sharing. The plaintiffs say they went to the judge as a "last resort."
A message seeking comment was left Thursday for Flint's spokeswoman.
Related:
Copyright 2021 Associated Press. All rights reserved. This material may not be published, broadcast, rewritten or redistributed.
Was this article valuable?
Here are more articles you may enjoy.