The federal worker safety agency is investigating the death of a man in southwest Ohio who was electrocuted when a crane touched a power line at a home under construction.
WLWT-TV reports the accident occurred last week in Butler County's Reily Township.
Bystanders described the man as in his 50s.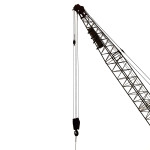 Fire officials and investigators from the Occupational Safety and Health Administration worked with translators to interview other workers who didn't speak English.
Copyright 2021 Associated Press. All rights reserved. This material may not be published, broadcast, rewritten or redistributed.
Topics Ohio
Was this article valuable?
Here are more articles you may enjoy.