Insurance services firm, Holmes Murphy, has named Chris Nelson as general counsel in Des Moines, Iowa.
Nelson, a Des Moines native, brings more than 15 years of experience as an attorney specializing in corporate and general business law. He has been instrumental over the past seven years as an attorney with Belin McCormick – Attorneys at Law in helping guide Holmes Murphy as it pertains to corporate governance, acquisition, and shareholder agreements and strategy.
He brings a multidisciplinary approach to his practice. He has earned recognition for his corporate practice from Chambers & Partners and Best Lawyers in America and has passed the Certified Public Accountant (CPA) examination.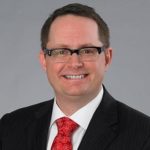 Although Holmes Murphy employs seven other full-time attorneys, Nelson will be the first dedicated general counsel. He will be responsible for leading corporate legal strategy and tactical legal initiatives and will be a key member of the leadership team, providing advice on company strategies and implementation, managing legal functions, business planning and perpetuation, and retaining and overseeing the work of outside counsel. Nelson will also be directly involved in complex business transactions, such as negotiating critical contracts and acquisitions.
Holmes Murphy will continue to partner with Belin McCormick for legal advice and consultation on legal matters as needed and directed by Nelson.
Source: Holmes Murphy
Was this article valuable?
Here are more articles you may enjoy.