The Bulow Group (TBG) in Tinley Park, Illinois, has a motto: "When other agencies are all going in the same direction, we choose to go in a different direction."
To Mike Bulow, who with his brother, Tom Bulow, owns TBG, the saying represents one of the guiding principles by which the agency operates. That is, "we block out distractions and what other agencies are doing. We stick to our game plan and growth plan," he said.
The agency's 13 employees clearly appreciate the game plan and the direction in which they're headed. They nominated and through their responses to Insurance Journal's "Best Agencies" survey, elevated The Bulow Group to IJ's Gold 2019 Best Agency to Work For – Midwest.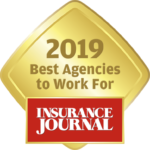 The overwhelming sentiment expressed by TBG employees is that it's a workplace where every person is appreciated, where each employee feels supported, where staff members not only are encouraged to succeed — both personally and professionally — they are guided in their efforts to do so.
"I believe our employees nominated The Bulow Group because we are constantly asking them what's important to them," Mike Bulow said. "Based off their responses we are continuously adding additional perks to give them a better work/life experience. We've implemented a lot of new ideas and structure that makes coming to The Bulow Group a pleasure. We believe in physical health, mental health, spiritual health and financial health. We feel like our job is never done and we can always do better for our employees and agency!"
One employee who has been with the company for five years said they "love coming to work each and every day. Every person who works here is a vital part of our company's success and every person is appreciated for their hard work. There is a company-wide support for one another that starts with the agency principals."

Anther wrote: "Mike and Tom take the time weekly to help us with WHATEVER we need. This has really made the difference in my success as a producer. I have never felt more supported in a role that I do at TBG."
Employees are encouraged to speak up and voice their opinions, Mike Bulow said. "My partner Tom and I are under the mindset that we do not know it all and we use that mentality throughout the agency. Our producers are encouraged to share ideas and strategies that work for them, our CSRs are empowered to make decisions and implement ideas. We do not believe in limiting our employees, we find out what is important to them and make it important to us," he said.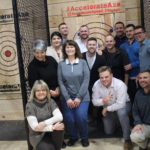 The agency's workplace philosophy of no limitations extends to clients as well, according TBG employees. "We practice what the company preaches," said one survey respondent. "We want our clients to reach their goals, even outside of insurance. We are truly a resource and advocate to our clients where they can trust us and call us for advice or recommendations on working with other companies for other needs that they might have."
Another said that client advocacy also extends to claims. "Instead of accepting a claim denial at face value, we comb through policies to ensure there is absolutely no coverage applicable — on several occasions, finding coverage the adjuster missed. This is not a value-add, but a constant."
The agency's "Employee for the Day" service is a distinguishing factor, as well as a practical application of TBG's focus on what's important to their client, one employee said. Under the program, "our producers spend a day with our clients to truly understand their operation and pinpoint where we can help enhance their current safety programs and better manage risk."
Asked what he would say to other agency owners who would like to create a "Best Agency" workplace, Mike Bulow replied: "My advice would be to REALLY care, and support your teammates. Make what's important to your employees important to you and you will never go wrong."
Was this article valuable?
Here are more articles you may enjoy.