Giant food manufacturer Kellogg is facing a class action lawsuit alleging that it is misleading the public with its Frosted Strawberry Pop-Tarts because it is not using a sufficient amount of actual strawberries in the toaster pastries' filling.
The pastry contains less than 2% real strawberries along with amounts of non-strawberry ingredients including pears and apples.
The product's name of "Frosted Strawberry – Toaster Pastries," is therefore "false, misleading, and deceptive because its filling contains a relatively significant amount of non- strawberry fruit ingredients – pears and apples," the plaintiffs contend.
They claim that Kellogg gives consumers the false impression that the product contains a greater amount of strawberries than it does by adding red 40, a synthetic food coloring made from petroleum.
"Strawberries are the product's characterizing ingredient, since their amount has a material bearing on price or consumer acceptance, and consumers believe they are present in an amount greater than is the case," the suit says.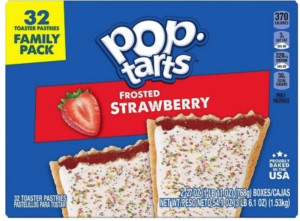 Plaintiffs in the class action, which was filed in federal court for the Southern District of Illinois August, say they wanted the benefits of real strawberries, not just a "strawberry taste," which they nevertheless failed to receive due to the pears and apples.
"The benefits from strawberries cannot be provided by strawberry "flavor," which refers to compounds extracted from strawberries used solely for taste, without their nutritional value," the lawsuit says.
The suit alleges violations of federal food labeling law and Illinois, Arkansas, Iowa consumer protection laws along with negligent misrepresentation, fraud and unjust enrichment.
The suit asks the court to direct Kellogg to correct its practices and award monetary damages to plaintiffs in the class.
Was this article valuable?
Here are more articles you may enjoy.