According to MarketScout, the November composite rate increase for property and casualty insurance remained at 2%.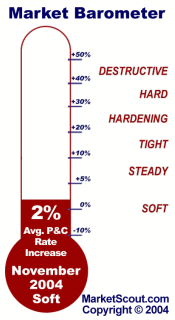 Richard Kerr, chairman and CEO of MarketScout (www.marketscout.com) commented, "We expect the market to remain constant through the end of the year. The majority of insurance companies secure final terms for their own reinsurance protection in late December, therefore, the impact of those terms will not be reflected until January 2005."
In November 2004, the lines of coverage which experienced no rate changes over expiring prices include:
Inland Marine
Excess Liability
Auto
EPLI
Fiduciary
Surety
The coverages which experienced a rate increase of 1% to 10% include:
Property
General Liability
Workers' Compensation
Professional Liability
And lastly, the coverages which experienced a rate decrease include:
D&O 15%
Large Casualty 12%
Any placement over $500,000 premium, except for coastal property or offshore energy 9%
When amalgamating the data, the net result is a general overall market condition of "soft" with an average composite premium increase of 2%.
MarketScout has expanded its research capabilities by working with The National Alliance to conduct an independent national survey of insurance agents and buyers. The results of this survey are considered in the computation of the monthly barometer and the trends for various lines of coverage. The National Alliance is an insurance education entity with more than 130,000 insurance professionals participating in continuing education programs.
Was this article valuable?
Here are more articles you may enjoy.