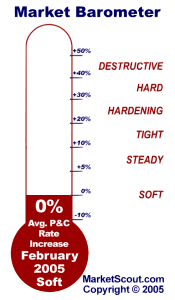 Based upon information compiled from MarketScout's national distribution system to more than 50,000 retail insurance agents, February renewals generated a composite renewal rate "as expiring."
According to Richard Kerr, CEO of MarketScout (www.marketscout.com),
"This is the first time in over four years that renewals are being placed with a composite average of a 0% rate increase."
MarketScout's strategic partner, The National Alliance for Insurance Education and Research, conducted an independent survey of 1,100 agents in February. This survey supports MarketScout's February barometer reading of a 0% composite rate for expiring coverages.
A summary of the February market conditions, based upon specific coverages or industry groups reveals:
* A slight increase in GL and Excess for tougher classes such as products liability. GL rates for OL&T exposures are down slightly.
* D&O continues to decrease modestly, mostly as a correction on the massive increases of prior years.
* Workers' compensation rates are decreasing.
* Accounts up to $500,000 premium are experiencing slight decreases.
* Accounts from $500,000 to $1,500,000 are experiencing moderate decreases, while jumbo accounts are experiencing more aggressive rate decreases.
* Manufacturing, Service and Public Entity sectors are renewing at no increase.
* Habitational and Energy accounts continue to suffer the highest premium increases.
Was this article valuable?
Here are more articles you may enjoy.