Specialty insurer Markel Corp. has agreed to acquire Alterra Capital Holdings Ltd. for $3.1 billion in cash and stock to increase business diversification and expand into reinsurance.
The two companies announced Wednesday that their boards of directors have unanimously approved a definitive agreement. The $3.13 billion aggregate consideration for Alterra is based on $2.13 billion in Markel stock (with a $486.05 closing price for Markel common stock as of Dec. 18.) and $1.0 billion of existing cash sourced equally from Markel and Alterra. The transaction is expected to be completed in the first half of 2013.
When the deal is completed, Alterra will become a wholly owned subsidiary of Markel. Markel executives and senior management will continue in current roles and key Alterra senior leaders and underwriters will be retained.
In the announcement, Glen Allen, Va.-headquartered Markel's Vice Chairman Steven A. Markel described Alterra as "an impressive company with proven worldwide underwriting operations in product lines that we believe are highly complementary to Markel's existing lines."
Vice Chairman Markel added, "In particular, the addition of Alterra's reinsurance and large account insurance portfolios will serve to diversify and strengthen Markel's current book of specialty insurance business."
"We look forward to welcoming Alterra's talented underwriting teams to Markel – with their help and the benefit of approximately $6 billion in combined shareholders' equity, we believe we will be well positioned to take advantage of a wide range of profitable opportunities," said Markel.
Bermuda-based Alterra's CEO W. Marston Becker is expected to leave the company following the close of the transaction. In the company's announcement, Becker said the combination of Alterra with Markel will create "an incredibly strong company in global specialty insurance and investments."
"The demonstrated track record of underwriting discipline in niche market segments by both companies, along with Markel's proven asset management strengths, should benefit all stakeholders," said Becker.
"I am confident that Alterra's shareholders, clients and other business partners will continue to be well served when Alterra's underwriting operations join forces with Markel's, and all should benefit from the superior financial strength, expanded capabilities and synergies created by the combined entity."
Companies Point to 'Complementary Business Profiles'
The two companies provided the following specific strategic and financial attributes for the transaction:
• Markel and Alterra said the deal is expected to create significant benefits for the shareholders of both companies and provide a robust foundation for strong financial performance going forward.
• Enhanced size and scale — following the close of the transaction, Markel is expected to write annual gross premiums of $4.4 billion and to have $6 billion in equity with capital flexibility to support future growth.
• Strong and well-diversified franchise — complementary business profiles provide important diversification of risk, with Markel adding reinsurance and large-account insurance to its specialty insurance portfolio. Following the close of the transaction, Markel's business is expected to be around 50 percent short-tail, 50 percent long tail; 67 percent insurance and 33 percent reinsurance.
• Common cultures of underwriting discipline — the merger brings together seasoned and accomplished underwriting teams with limited overlap in diverse specialty insurance and reinsurance lines.
• Strong investment performance — Markel brings a long and successful track record of investment performance. This expertise can now be applied to the combined entity's investment portfolio of over $16 billion.
When the deal is completed, each Alterra common share will be converted into the right to receive 0.04315 Markel common shares (with cash paid for fractional shares) plus a cash payment of $10. Following the merger, Markel's existing shareholders will own some 69 percent of the combined company on a fully diluted basis, with Alterra's shareholders owning around 31 percent.
The following chart shows 2012 estimated gross premiums written in key business segments.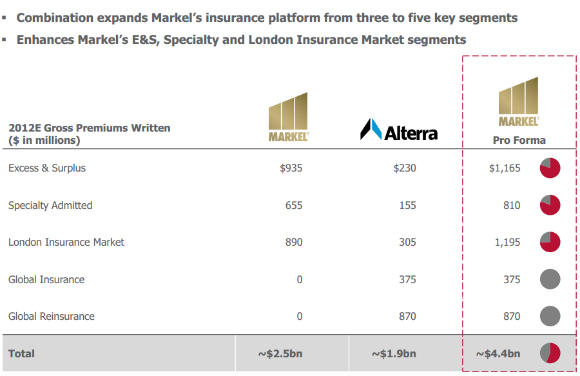 (Chart courtesy of Markel Corp. and Alterra Capital Holdings Ltd.)
Was this article valuable?
Here are more articles you may enjoy.