Proposed federal and state gun legislation is having an unintended effect on growth in the gun insurance market across the country. Experts in this segment say new policy submissions dealing with all aspects of guns, including gun shops, gun dealers and gun ranges are up exponentially compared to the last couple years.
"Every single one of my gun shops has increased its revenue by 25 percent in the last year," says Scott Wilson, president of Best Shot Insurance in Chesterfield, Mo., a division of Charles L. Crane Agency. "In addition to that, the number of new ranges opening has gone through the roof."
Wilson says sales are up because some people fear they will have their guns taken away under the proposed legislation and feel they should exercise what they believe is their Second Amendment right now while they still can.
Best Shot covers firearm accessory manufacturers; firearm instructors; firearm retailers, wholesalers and distributors; gunsmiths; gun shops and shooting ranges; and hunting clubs and preserves. Coverages for these classes vary by what they are involved with but Wilson says the policies are very black and white, and if the exposure is not listed it is not covered so agents need to be thorough when underwriting.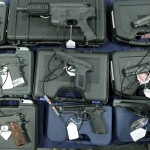 Wilson says increased demand for guns and gun services like gun ranges or classes has led many businesses to expand into other areas they were not in before. But too often they are not updating their insurance coverage appropriately.
"The biggest exposures I see right now are a lot of gun shops going into the manufacturing side without knowing what coverages they need," he says. "For gun ranges offering conceal carry classes there is a professional liability exposure. A lot of gun ranges and shops are not carrying the proper coverage to protect them from a professional liability standpoint."
Gun ranges that offer classes on self-defense and carrying a concealed weapon are seeing a marked uptick in enrollment, especially from women, and teaching these classes opens the range up to professional liability exposures – which most do not realize. New legislation that targets concealed carry laws will impact what is taught so range owners need to be on top of any changes.
"In certain states you could teach four different types of classes on conceal carry laws," says Wilson. "The key thing is for ranges to be up on the most recent changes on conceal carry legislation and be aware of what is institutionalized in their state at that particular time."
Wilson says most instructors would carry personal gun liability coverage but agents need to educate range owners and instructors of conceal carry classes about the importance of professional liability coverage as well, especially considering future changes in legislation.
Carriers that write these classes, says Wilson, are also following gun legislation proposals closely so they are prepared to update coverages if something changes. Carriers are paying particular attention to legislation around semi-automatic weapons. he says.
"Manufacturers are still making these weapons and we are still supporting those who do. Our products are still backing those [weapons manufacturers] until the legislation changes," says Wilson. "If they get outlawed the policy will be changed completely to exclude those."
For gun shops, Wilson says sales will be affected dramatically if the waiting period is changed by any federal or state mandates. Insurance carriers are also "squeamish" about gun shops or ranges that carry fully automatic weapons unless they are being used for military, police or tactical systems that are fully trained for those weapons, says Wilson.
"Carriers are asking questions regarding fully automatic weapons that they weren't asking before and denying coverage," he says. "Some are responding to the actuaries who have been looking at the numbers and others are following suit from political pressure and what might be coming down."
Wilson says the majority of gun liability business is written in the E&S market and he expects that more will go that way if any legislation is passed and takes effect. He also says premiums will go up if that happens. Until then though, it is business as usual for this market.
"At the end of the day there is a lot of fluff and some actions that could change exposures going forward but right now everyone is in a holding pattern and waiting to see," says Wilson.
He also thinks this is still an untapped market where a specialist can do well.
"When 2008 came around we were heavy into construction and lost half of our book overnight," he says. "So this market segment has really helped our agency and this industry."
Gun Dealers
The gun dealer market has changed quite a bit in the 32 years since New Jersey-based Joseph Chiarello & Co. began writing this class.
Chiarello & Co.'s first policy application for gun dealer insurance consisted of a one-page form with seven questions, according to Robert Chiarello, president of the brokerage, which specializes in the firearms industry. After years of fine-tuning the underwriting, that form is now 14 pages long, Chiarello says.
The increased emphasis on underwriting may partly be in response to the expansion of regulations on this class that has occurred over the years.
In 1998, the National Instant Criminal Background Check System, or NICS, was mandated by the Brady Handgun Violence Prevention Act of 1993 and launched by the FBI. All federally licensed gun dealers – Federal Firearms Licensees (FFLs) – are required to use the system every time a gun is sold to determine whether a prospective buyer is eligible to buy firearms or explosives.
"Before ringing up the sale, cashiers call in a check to the FBI or to other designated agencies to ensure that each customer does not have a criminal record or isn't otherwise ineligible to make a purchase. More than 100 million such checks have been made in the last decade, leading to more than 700,000 denials," the FBI states on its website.
"Every dealer, including a pawnshop, who sells firearms, has to be licensed by the federal government, through the Bureau of Alcohol, Tobacco and Firearms. And they have an FFL, which is a federal firearms license, and there are different classes for dealers, for gunsmiths, for manufacturers and so on," Chiarello says.
"They're all investigated by the Bureau of Alcohol, Tobacco and Firearms," Chiarello says. "They all have to pass rigorous background checks and then they're given a license. The only way that they can stay in business … is with that license."
Every time someone buys a firearm from a licensed seller, the purchaser must fill out and sign a federal document – ATF Form 4473 – in the presence of the dealer, Chiarello says.
The form includes questions covering history of domestic violence and/or harassment, felony convictions, drug use, mental condition, citizenship/resident status, whether the buyer was dishonorably discharged from military service and whether the purchaser is buying the product on behalf of someone else.
After the form is completed, the dealer then contacts the FBI and provides "the prospective buyer's Social Security Number, his name, address, and a few other things. The FBI can then do an instant background check for criminal prosecution, for domestic violence issues, which should be reported to them, and also mental disabilities," Chiarello says.
The program Chiarello administers through AIG is available in 50 states and currently insures about 3,000 gun dealers. Chiarello also provides coverages for other weapons-related businesses, including instructors, manufacturers, gunsmiths, shooting ranges, etc.
The base product is not particularly expensive, Chiarello says. The annual premium starts at about $800 and Chiarello has the ability to price the account up or down about 15 percent depending on the particulars of the dealer's facility.
In addition to an FFL, the facility must have a central station burglar alarm in order to be considered by the brokerage. The dealer also should have "safes, cameras, and crash guards in front of plate-glass windows, so people can't just drive a car through the window and go in and steal the guns and back out and go away," Chiarello says.
A dealer, such as a pawnbroker, who has an FFL but does not specialize in firearms, may be instructed to take a gun that is pawned but not retrieved by its owner to a licensed, insured gunsmith to check out and certify the gun. Gun dealers are required to certify used guns, as well, but they generally "know enough in selling a used firearm to make sure that it works correctly, that the safeties work," Chiarello says.
"There are three triggers in any liability case and that's design defect, manufacturing defect, and failure to warn," Chiarello says. "The failure to warn is the owner's manual."
At the point of sale, even if they are selling a used gun, the dealer should always make the owner's manual available to the buyer, or tell him where to access it online, he says.
For gunsmiths, particularly, an owners' manual is mandatory, Chiarello says.
"When we insure a gunsmith who's re-manufacturing a gun, or changing it, or assembling parts to make a gun, one of the questions we ask … is, 'When you sell the gun, do you include an owner's manual?' If they say, 'No,' then we say, 'We can't insure you,'" he says.
Best Shot Insurance Agency's Scott Wilson says carriers have started to get more technical with gun dealers or shops that are doing any sort of gun building or trigger manufacturing. In ordered for the gunsmith work to be covered, the shop must be classified as a manufacturer to the insurance carrier.
"The key thing is having the right coverage for the right exposures, and you have to have a gunsmithing exposure on the policy," he says. "That's the biggest exposure I see right now. A lot of gun shops are going into the manufacturing side without knowing what coverages they need."
Chiarello says some strange claims do come out of these facilities.
"We had one where a guy went into a gun store with his gun to have it repaired. And the salesman behind the counter, or the clerk behind the counter, says, 'You sure it's unloaded?' He says, 'Yes.' The dealer put it behind his back, pulled the trigger, and of course it was loaded. And he shot into a canister of gunpowder which, of course, ignited, and started a fire in the place. Things like that happen."
Straw Sales
One cause of concern for gun dealers and government officials alike is the potential for "straw sales, where someone who is legally capable of buying a firearm goes in and buys it in his own name, which is legal, but then sells it or gives it to someone else, who maybe can't buy that firearm legally," Chiarello says.
Legislation has been proposed "to increase the penalties for those straw sales, because if someone who's a criminal can't buy a gun, he gets it from somewhere," he says. "Either he steals it from someone or he buys it from someone who owns it legally."
Currently, NICS background checks are required only on sales made through licensed dealers. But there are legislative initiatives on both state and federal levels that would require background checks for all sales, including sales between individuals.
Such legislation would be difficult to enforce, especially on the individual level, Chiarello says.
But gun shows are another matter. While licensed dealers at gun shows have to comply with federal regulations regarding gun sales and background checks, individual sellers typically do not. Some proposed state and federal legislative measures aim to close that loophole.
Some of the proposals would require an unlicensed seller to transfer the gun to the new owner through a federally licensed dealer, Chiarello says.
Chiarello says his company does insure gun shows, but only "where they have state police, or police at the door to check what comes in and what goes out. No ammunition, because sometimes people will accidentally shoot a gun in a gun show. … and we do it for people whose business it is to run and control gun shows, and know what has to be done both locally and do the NICS checks there, if they're a dealer."
Workers' Compensation Coverage
The Holdren Insurance Group (HIG) specializes in workers' compensation for the shooting sport industry as well as for gun stores, gun manufacturers, and gun distributors. Chuck Holdren says placing workers' compensation coverage for these classes has always been extremely difficult. Now, the few markets that do write the coverage are starting to raise rates.
"We are seeing rate increases of 10 to 15 percent in our book of business on renewals for our exposure," he says. "Our guys are getting hammered just because of what they do and they don't have any losses."
HIG began its program about two and a half years ago and Holdren says the loss ratio has been fantastic so far.
Most carriers don't really understand firearm-related risks and would rather decline than get to know the class, but the growth this industry is experiencing may change that, Holdren says.
"This one industry – pardon the pun – is exploding and I see that happening for the foreseeable future," he says. "I have been talking to other carriers and they are realizing it is an industry that no one is really paying attention to."
Holdren says the gun control conversations in Washington, D.C., are leading to a surge in people buying guns for the first time or opening new gun ranges. At HIG, his insureds' payrolls are up 20 and 30 percent over last year and he has been receiving about 10 submissions a month for new gun ranges across the country.
Holdren says he is currently in talks with carriers to expand into the gun liability side so HIG can offer a full package to this class and is looking at acquisitions and strategic partnerships to help guide this expansion. The agency is also moving the workers' compensation coverage from SeaBright Insurance Co. to other carriers as well.
He says the key to covering this industry effectively is to understand the amount of safety, loss control and engineering that must go along with gun-related facilities.
"A gun range is not a place you go and goof off. They are so heavily regulated with local, state and federal compliance issues," Holdren says. "There is no room for people to screw around."
HIG has a comprehensive set of guidelines that delves into an insured's safety and loss control practices used on every account they underwrite.
"It allows us to see what they are doing and how they operate," Holdren says. "If there is even a remote question of safety or loss issues we don't take it. We are not a price sensitive product so we only write the best."
What would perhaps be surprising to some is that most work comp claims that do come up are not because of gunshot injuries, Holdren says. They typically have to do with the hearing loss associated with the noise in a gun range or gun facility; lead issues from handling ammunition and cleaning of the range facility; injuries from lifting boxes of ammunition or firearms; and cuts and bruises.
"Safety is first and foremost everywhere – from liability waivers, to signs to certified range master employees and owners – you don't just get a gun and walk around. Everything is very heavily regulated," Holdren says.
Hunting Lodges
One class that isn't too concerned about gun control legislation proposals is the hospitality side, such as hunting lodges or clubs where there are firearms on the premises but they are not supplied by the business.
Cortland, N.Y.-based McNeil & Co.'s AdvenSure program, written on Arch Insurance Co. paper, insures business owners of hunting and sportsmen facilities for their everyday business needs, but doesn't cover gun liability.
Steve Gulini, vice president of marketing for McNeil, says it can be difficult for these types of facilities to obtain coverage because some insurers exclude businesses that allow firearms on the premises. McNeil's program works with these businesses and provides waivers that indemnify the lodge owner or the guide if there are guests participating in an at-risk activity.
Gulini says they do not expect that proposed legislation could have an impact on the hospitality side, unless the availability of ammunition is addressed or restricted in geographic locations.
"That could impact hunting operations if ammunition is not readily available to guests and clients in the facilities area and it forces [guests] to travel somewhere else," he says.
For more on personal gun liability insurance, see Interest in Gun Liability Insurance Protection Increasing
For more on federal gun-related legislative proposals, see Gun Liability Insurance Bills Aren't the Answer, Says Insurance Industry.
Topics Lawsuits Carriers Legislation Agencies Workers' Compensation Gun Liability Manufacturing
Was this article valuable?
Here are more articles you may enjoy.