Property, casualty and professional liability insurance rates were up five percent in April, according to MarketScout's most recent composite index.
That matches the increase for March.
Commercial property and workers' compensation rates were up the most of all coverages at plus 6 percent in April. Jumbo accounts once again came into favor as the rate increases moderated from plus 5 percent in March to plus 3 percent in April, MarketScout said.
"The market is bumping along in a continued slow but steady path towards overall increases. For the rest of 2013, we expect some months with lower composite increases than prior months but the general direction of rates will be upward, unless new capacity enters the market," Richard Kerr, CEO of MarketScout.
Kerr said the recent movements by Berkshire Hathaway to increase its commercial lines and excess and surplus business by attracting four executives from American International Group (AIG) could affect the market.
"No one other than Berkshire and the crew of executives who just departed AIG know for sure what the Berkshire plan includes. Original speculation was they would be building a large non-admitted insurer. Some insurance company executives now speculate Berkshire may also have plans to launch a new multi-line admitted underwriting company," said Kerr.
"If the plan is to start a large E&S company, it could have an impact on pricing. If the plan includes an admitted primary market strategy, rates in that area could be impacted as well. Of course, all of this is speculation and the direction of rates, be it up or down, depends on what Berkshire's pricing strategy becomes. Historically, Berkshire has proven to be a very sound underwriting company so it is doubtful they will price their products inappropriately."
As reported by Insurance Journal, Warren Buffet, CEO of Berkshire, said at his annual meeting that he expects his firm's commercial insurance growth to be "significant."
Kerr said that in the future both AIG and Berkshire will be significant players in the property and casualty market, both in the U.S. and abroad and the "end result will be positive for insurance buyers, brokers and agents."
The National Alliance for Insurance Education and Research conducted pricing surveys used in the analysis by MarketScout, a national wholesale insurance broker and managing general agency. These pricing surveys further corroborate MarketScout's actual findings, which are based on new and renewal placements across the U.S., according to the organizations.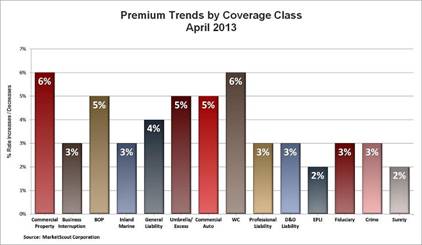 Was this article valuable?
Here are more articles you may enjoy.