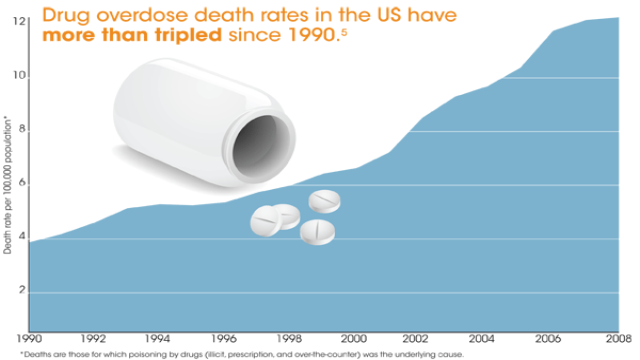 Drug Overdose Death Rates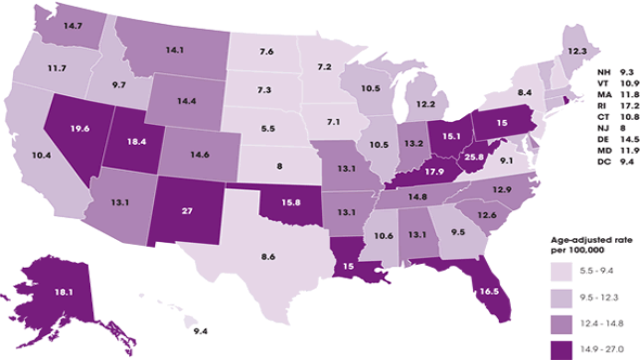 Drug Overdose Death Rates by State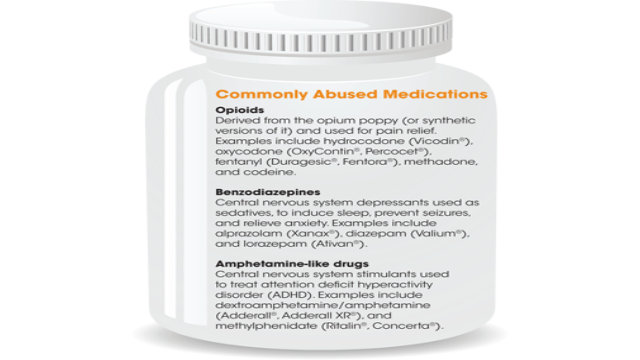 Commonly Abused Medications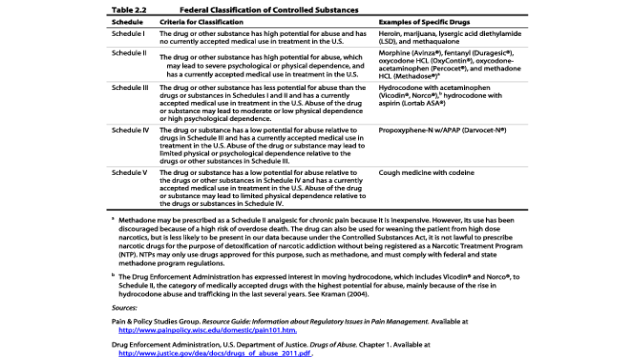 Federal Classification of Controlled Substances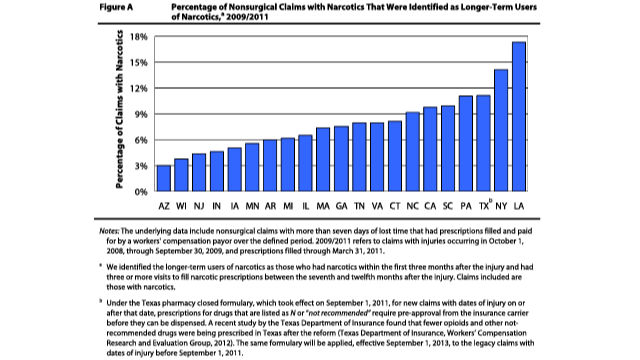 Percentage of Nonsurgical Claims Identified as Long Term Users of Opioids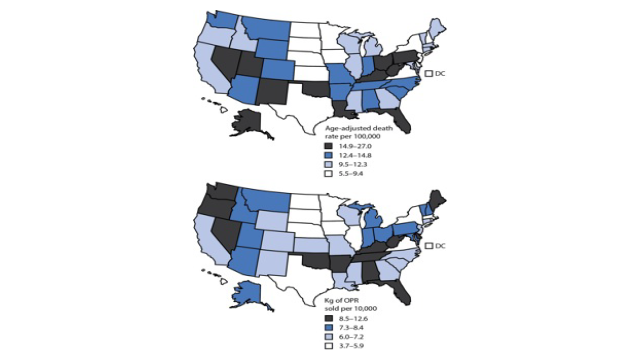 Drug Overdose Death Rate and Opioid Pain Relievers Sold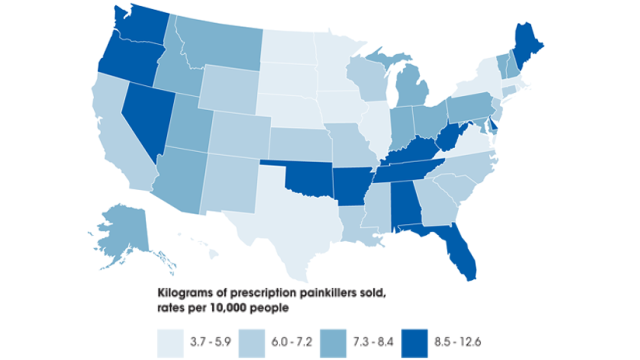 Amount of Prescription Painkillers Sold by State Varies
Editor's Note: This is part of a team report on opioid use by injured workers. For stories focused on particular regions click on the respective links below.
The national "epidemic" of opioid usage has garnered a great deal of public attention, but amid those concerns is a less publicized battle being waged by workers' compensation stakeholders who are stepping up efforts to call more attention to the use of the potent pain relieving narcotics by injured workers.
In the highly complex and diverse field of workers' comp, entities from state governments to insurers to an array of workers' comp stakeholders have been forced to face down the issue of opioid usage by injured workers in varying degrees through myriad methods.
Pinning down just where the problem lies for these entities is a task as arguably as tough as correcting the problem of opioid abuse itself.
Improved utilization of statewide databases that track opioid prescriptions, ferreting out and punishing overprescribing doctors, dealing with the growing number of pain management clinics and stricter controls in management provider networks are among the solutions a number of states have adopted or are considering to tackle this multifaceted problem.
And the problem of opioid abuse continues to grow to the point of posing enough of a national danger that it's gotten the attention of the Centers for Disease Control and Prevention.
"It's a big problem, and it's a growing problem," said Dr. Leonard J. Paulozzi, a medical epidemiologist with CDC's National Center for Injury Prevention & Control, which has been studying not just the impact of opioid overdoses, but the problem of overuse among America's populous.
There are close to 40,000 drug overdose drug deaths each year in the United States, and the number continues to rise, according to CDC's latest statistics, which show more than half of overdose deaths involve prescription drugs and that opioid-related deaths now exceed deaths involving heroin and cocaine combined.
"Drug overdoses, the deaths, are more numerous than motor vehicle crash deaths in the United States," Paulozzi said. "And it's gone up for 11 consecutive years as of 2010. We've called it an epidemic, drug overdoses, and it's a high priority topic here at the CDC."
Paulozzi views the drug problem as being potentially more prevalent among the injured worker population.
"The overdose rate is highest among people of working age, that is middle-age people," he said.
Further exacerbating the problem is that many work-related injuries occur to the back, for which doctors are increasingly prescribing opioids both short-term and long-term to address pain, despite broad medical recommendations against long-term use of such painkillers in back cases, according to Paulozzi.
"There's an awful lot of back injuries in the workers' comp population and subsequent surgery related to back problems, and back pain is one of the most common indications now of use of opioids in the United States," he said. "And it's being used frequently for back pain and it's being used long-term for back pain."
Hear a podcast with CDC's Paulozzi talking about the opioid epidemic.
Paulozzi backed his statements by citing guidelines from the American College of Occupational and Environmental Medicine, and guidelines about to be approved by Washington's Department of Labor & Industries, which address when opioids should be used, and how long they should be used.
"They notice in their past histories that 42 percent of workers with back injuries got an opioid prescription in the first year after injury – most of the time after the first medical visit," Paulozzi said. "But one year after the injury, 16 percent of those workers were still getting opioids."
He added, "In fact the recommendations really are just for use in more short-term situations with back pain. Opioids might be good for use in the acute phase, say within six weeks after injury. But if it doesn't improve the situation in the short term, continuation is not really indicated."
Trey Gillespie, senior workers' compensation director for the Property Casualty Insurers Association of America, has been closely following the issue across the country for a number of years, particularly at the state level where much of the battle against overuse and overprescribing opioids in workers' comp cases is being fought.
Most of the legislative and regulatory attempts to address the overutilization of prescription drugs lies with state legislatures and state agencies, although the Food and Drug Administration is considering the reclassification of Hydrocodone – an opioid that finds its way into may workers' comp prescriptions – from Schedule III to Schedule II, according to Gillespie.
"All states have a problem with the overutilization of prescription drugs including narcotics," Gillespie said. "The Workers' Compensation Research Institute has looked at the data from 21 states and found longer-term use of opioids was most prevalent in New York and Louisiana. Other states with significant long-term opioid usage were Texas, Pennsylvania, South Carolina, California and North Carolina."
Georgia just passed a "pill mill" bill that would license and regulate pain management clinics, and require the owner of such an establishment to be a doctor. States like Kentucky, Ohio, Tennessee, West Virginia, Texas, Louisiana, Mississippi and Florida have passed similar legislation.
Such actions are not without a potential downside. A few years ago pill mill legislation was introduced in Florida, however that sent people in that state to other nearby states looking for prescriptions and caused increased drug dispensing in neighboring territories, according to Gillespie.
Many states are still trying to catch up in terms of policing or at least curbing opioid abuse. In Missouri lawmakers are still trying to pass legislation to create a prescription drug monitoring program. Sen. David Sater, R-Cassville, and Rep. Kevin Engler, R-Farmington, have introduced legislation to establish such a program.
Other states have been more aggressive in the battle.
Texas implemented a closed formulary on prescription drugs in the workers' comp system. The Texas Workers Compensation Research and Evaluation Group in an early study of the state's closed formulary suggests it may reduce the utilization of Schedule II narcotics.
For more on the South Central Region read Texas, Oklahoma Battle Opioids With Legislation
In the world of workers' comp, the studies and efforts to curb usages are also being driven by the bottom line, since the medical benefits portion of a workers' comp claim may be open for a number of years and may be open for the lifetime of the injured worker.
"As the years progress, prescription medication becomes a bigger portion of the medical expense," Gillespie said. "This is especially true if the worker has become dependent or addicted to opioid medication to control pain. Consequently, payers are working hard to reduce the incidence of workers who become dependent or addicted to pain medication and look for better treatment alternatives to opioid pain medication to manage pain."
Carriers and Providers
While federal and state agencies work to abate prescription drug abuse nationally and on the local level, workers' comp carriers and service providers are examining the problem of opioids prescribed to injured workers, which can lead to higher costs and legacy claims, according to industry experts.
A recent study of more than 12,000 workers' comp claims processed by Lansing, Mich.-based Accident Fund Holdings found that when prescriptions for certain opioid painkillers were prescribed in workers' comp injuries, claims were almost four times as likely to have a total cost of $100,000 or more compared with claims without any prescriptions.
Opioids make up to 3 percent of costs in shorter claims and between 15 and 20 percent of all medical costs on longer term claims, according to Dongchun Wang, an economist with WCRI, part of a team of researchers that analyzed long-term opioid use in 21 states.
Travelers estimates medical costs currently make up 60 percent of workers' comp claim costs and are projected to increase to 67 percent by 2019. Willis' has expanded its medical cost consulting service based on its similar estimation that by 2020, medical costs will account for 70 percent of workers' comp costs.
Though often used synonymously, opioids are natural opiates derived from poppy plants while narcotics are a synthetic version.
There are many variations of opioids – fentanyl, morphine, codeine, hydrocodone (Vicodin, Lortab), methadone, oxycodone, (Percocet, OxyContin), hydromorphone (Dilaudid) and meperidine (Demerol) – with different levels of potency. In order to compare one to the other, morphine is considered the baseline.
"Morphine has a one‑to‑one relationship – morphine is equivalent to morphine. OxyContin is one-and-a-half times more potent than morphine. Methadone, depending on the dosage, is 10 to 12 times more potent. Fentanyl can be anywhere from 10 to 12 times more potent than morphine," according to Mark Pew, senior vice president of business development for PRIUM.
He said that opioids are generally prescribed for three reasons in workers' comp claims: Catastrophic injury with chronic pain; an injury involving surgical treatment which necessitates immediate pain control; general pain control.
Backing the assessment of CDC's Paulozzi, Pew noted that although opioids are prescribed regularly when a worker is injured on the job, the Food and Drug Administration on‑label approved use of opioids is for cancer patients, AIDS patients and for surgery-related pain.
According to Pew, medical guidelines generally specify a two-week timeframe after surgery or substantial injury for opioid use.
"Using opioids as a crutch really is the wrong thing. What you need to be focusing on is coping with it and managing it like the vast majority of humanity does with chronic pain or just the fact of getting old," Pew said.
An annual workers' comp report from pharmacy benefit managing giant Express Scripts noted: "The issue of opioid prescribing becomes even more important in workers' compensation settings as prolonged opioid use has been shown to be associated with poorer outcomes, longer disability and higher medical costs for injured workers."
The study, 2012 Workers' Compensation Drug Trend Report, also found that high narcotic prescribers tend to treat fewer injured workers. The researchers' theory is that "prescribers who don't routinely treat work-related injuries are more likely to prescribe larger amounts of narcotics than their peers."
Pew said there is a tipping point in the long-term use of opioids in worker injuries.
"When somebody is off work, the thing that complicates matters on workers' comp is you've got the secondary standing entitlement mentality that oftentimes comes with workers' comp," Pew said. "You have to be self‑motivated, really, to get back to work and do the right thing."
The higher the potency, the greater the likelihood for problems, according to Pew, who added that because of the numerous side effects associated with opioids, there is the risk of poly‑pharmacy.
"It means there are too many drugs – drugs that shouldn't be used together, drugs that should be counter‑indicated," Pew said. "And so what started out as a one or two-drug regimen, over time has become a three-drug, a five-drug, an eight-drug, a 15-drug regimen because all the side effects compound each other and the side effects sometimes create the need for additional drugs to deal with the additional side effect."
According to the PRIUM executive, when claimants are on multiple drugs with potentially high dosages, "their quality of life and function never gets any better. In fact, it actually gets worse over time."
Worst States
WCRI's research found that the highest utilization of opioids on a long-term basis was in Louisiana and New York. The report also noted that despite limitations on dispensing opioids to injured workers, between 55 to 85 percent have received an opioid prescription in those states.
According to Pew, roughly a third of the prescriptions written in Illinois were for drugs dispensed by the physicians.
"Illinois said, 'That's not best practices because it bypasses the pharmacist oversight.' They instituted a fee schedule. They capped the amount of money that doctors could make on physician dispensing, and all of a sudden physicians didn't dispense as much as they used to," Pew said.
For more on the Midwest Region read Ohio, Indiana Struggle with Impact of Opioids on Injured Workers
The epidemic of opioid abuse and its impact on workers' compensation in the Northeast is particularly noticeable in New York and Pennsylvania, where the percentages of injured workers that become longer-term users of opioids are among the highest in the nation.
In its recent study, WRCI found that in New York, 14 percent of non-surgical workers' comp claims with narcotics were identified as longer-term users of narcotics. That's the highest percentage among all Northeast states and second only to Louisiana (with 17 percent) in the WCRI study. The underlying data encompassed 21 states across the country and included non-surgical claims with more than seven days of lost time that had injuries arising from Oct. 2008 to Sept. 2009 and prescriptions filled through March 2011.
In Pennsylvania, 11 percent of non-surgical workers' comp claims with narcotics were identified as longer-term users, tying Texas for the third-highest figure in the research.
For more on the East Region read New York, Pennsylvania Rank High for Opioids Among Injured Workers
In California, home to one-in-eight Americans, just 3 percent of the state's doctors prescribe 55 percent of the opioids, according to findings from the California Workers' Compensation Institute.
California has seen a large increase in opioid prescriptions over the last decade, according to CWCI, which has been tracking opioid usage in workers' comp for the past eight years.
Between 2002 and 2011 CWCI tracked a 300 percent increase in opioids, according to CWCI President Alex Swedlow.
In 2002 roughly 1 percent of all injured worker outpatients were prescribed opioids. By 2011 it was 5 percent, and payments for opioid prescriptions rose from 4 percent to 18 percent during that period, according to Swedlow.
"That's a 321 percent increase in payments," he added.
Washington is in the process of introducing a set of more stringent guidelines for workers' comp medical providers that detail when opioids should and shouldn't be prescribed, as well as consequences for failure to follow these best practices.
Washington has been among the states with the highest rate of prescription opioid-related deaths, according to a CDC, which reports on the U.S. and the rate of death from overdoses, and it breaks out opioids.
The latest report shows there are 14.7 drug overdose deaths per 100,000 population in Washington. Of those, 6.1 per 100,000 were opioid related overdoses, according to the report. The report shows the national average for drug overdose deaths was 11.9 per 100,000, with opioids accounting for 4.8 per 100,000.
New Mexico (27.0, and 5.7), West Virginia (25.8, 5.9) and Kentucky (17.9, 6.0) were among the top states with drug overdose and opioid-related deaths, according to the report.
For more on the West Region read Injured Workers Opioid Use on Rise in California, Washington
Deaths from prescription drug overdoses jumped 360 percent in the last decade in the Appalachian region of the U.S., according to experts at the Center for Clinical and Translation Science. The Appalachian region is a 205,000-square-mile area that spans several southeastern states. As a result of this growing epidemic, many states in the Southeast proposed new legislation that addresses myriad issues that foster prescription drug abuse.
Taking action in 2011, Florida cracked down on pain clinics, known as "pill mills", and prohibited physicians from dispensing Schedule II and III drugs, except in limited instances.
"They've [Florida] historically had a big problem with pill mills, where you can go in and get pills, not necessarily for legitimate reasons, and the reason why people go in to get the pills is so that they can resell them on the street," said Mark Pew, senior vice president of business development for PRIUM.
Legislation in Alabama and Georgia also sought to clamp down on pain management clinics.
For more on the Southeast Region read Southeastern States Battle Against Prescription Drug/Opioid Abuse
Controlling ProblemThough 49 states have prescription drug monitoring program laws and 44 states have operational programs, the statewide electronic databases that collect designated data on prescription controlled substances and drugs of concern are not enough to control the opioid abuse epidemic. As a result, workers' comp service providers have come up with a variety of ways to address the opioid problem.
Progressive Medical, a workers' comp pharmacy benefit manager released its 2013 Workers' Compensation Drug Trend Report in April, which found it was beneficial to utilize analytics to predict potential high-cost, high-risk claims assists payers and injured workers. The company reported more claims closed in the acute phase and resulted in a 51 percent decrease in the likelihood that a claim would mature into a two-year claim. In addition, the use of opioids went down.
Travelers recently introduced its Medical Center of Excellence, a program that incorporates medical bill review advancements and network, pharmacy and fraud management. The company recommended that "employers, brokers, and carriers proactively partner on timely intervention, proven return-to-work strategies and skilled case management to avoid unnecessary delays and expense in treatment."
"Travelers' wealth of medical and loss data, combined with our in-house medical and analytic capabilities, allows us to develop proactive strategies for managing injured workers' safe and timely return to work," said Jim Wucherpfennig, vice president, workers' compensation, claim.
Express Scripts outlined some of its programs to combat opioid abuse and reduce associated costs: Long-acting narcotics; retrospective drug utilization review; injured worker narcotics education; physician dispensing education.
Programs that address opioid use and abuse benefit not only the injured worker, they benefit the insurer by reducing costs and liability risk, said Pew with PRIUM.
"There have been case law in several states now where an injured worker overdosed on drugs that were prescribed by the work comp doctor and paid for by the work comp payer, and even though they obviously had a problem with the use of that drug – they were abusing it or misusing it. Ultimately, the insurance carrier had to pay for death benefits because they somewhat enabled the processor to pay for it," he said.
WCRI in a 2012 study found that the price of a physician-dispensed drug is 60 to 300 percent higher than the price of an identical drug from a retail pharmacy, and that amount of physician-dispensed drugs has increased significantly between the study period of 2007 through 2011.
Express Scripts analysis shows bad prescription decisions have a disproportionate effect on the poorest states. Mississippi, which has the lowest median household income in the country, had the most wasteful spending, totaling $1,622.76 per resident. The other low-income states that top the list in unnecessary pharmacy-related costs include: Louisiana, Arkansas, Alabama, Kentucky, Tennessee, South Carolina, New Mexico and Oklahoma.
"Our nation pays a huge price for bad medication-related decisions, and it is clear that the price is even more costly for those at the lowest end of the economic spectrum," said Steve Miller, MD, chief medical officer at Express Scripts. "The good news is that our country can save billions of dollars for patients, employers and the government – and achieve healthier outcomes – simply by driving better decisions within the pharmacy benefit."
Topics Carriers California Florida Legislation USA Texas Claims Workers' Compensation New York Louisiana Washington Pennsylvania Kentucky Drugs
Was this article valuable?
Here are more articles you may enjoy.