The Travelers Companies Inc. and the Virginia Tech Transportation Institute (VTTI) recently co-hosted a symposium where research on some of the top concerns of the trucking industry was discussed with fleet managers and insurance brokers.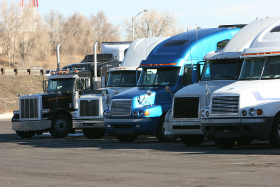 At the symposium, Erin Mabry, research associate for the Center for Truck and Bus Safety at the VTTI, spoke about how safety may be impacted by common health concerns such as fatigue and sleep apnea.

One in four commercial motor vehicle (CMV) drivers in the U.S. may be at risk for moderate to severe sleep apnea, and the majority of sufferers are undiagnosed and untreated, according to VTTI.

"The typical lifestyle of a CMV truck driver may include irregular work and sleep hours, physical inactivity, poor eating habits, and mental and physical stress," Mabry said.

"Health interventions that target weight management are critical for addressing the many components of poor health that is widespread among the population."
Mabry outlined the steps fleet managers can take to implement a successful wellness program, including offering physical and clinical testing, health education, accessible health clinics and exercise coaching and monitoring.
Information from DrivingHealthy.org, maintained by VTTI, also was highlighted as an online resource that drivers can access, with updated information on maintaining a driver medical card, developing an exercise regimen, and making healthy food choices on the road.
Effective Use of Safety Technology
Another theme covered in the workshops was the impact of technology on CMV safety. Jeffrey Hickman, a specialist in behavior-based safety research at VTTI, spoke about ways that trucking operations can minimize distraction.
He suggested training and education, establishing a policy defining distractions and the consequences for each, securing management buy-in, onboard safety monitoring systems, and crash avoidance systems as tools to assist in curbing the distracted driving issue.
"Drivers need to be educated about the dangers of distracted driving and which activities are considered distractions," Hickman said. "If drivers engage in distracted driving after training and education, this suggests a motivation deficit. This is when a distracted driving policy or other technologies should be considered."
Additionally, Gregory Fitch, senior research associate in the Center for Truck and Bus Safety at VTTI, discussed trends in safety technologies available for CMVs. According to Fitch, 78 percent of crashes involve a driver not looking forward at the onset of the lead vehicle braking.
Forward Collision Warning systems with active braking can direct drivers' attention back to the road to avoid an incident. These systems are now even able to fully stop a truck if the driver fails to do so, Fitch said.
Darrell Bowman, group leader for advanced systems and applications in the Center for Truck and Bus Safety at VTTI, further discussed risks associated with driver drowsiness and fatigue and suggested ways to monitor and manage the problem.
These suggestions include maintaining more predictable work hours, getting adequate sleep before driving, taking rest breaks and naps and utilizing an online fatigue management program for drivers.
Susan Soccolich, a VTTI statistician, discussed fatigue and the new hours-of-service (HOS) rules. Driver drowsiness, HOS research and the safety impact of HOS regulations are among the reasons for the recent change in rules, Soccolich said. Soccolich showed the benefits for drivers and companies using new technology such as Electronic On-Board Recorders (EOBRs) to help the driver stay awake, alert, and compliant with the latest regulations.
Source: The Travelers Companies Inc., the Virginia Tech Transportation Institute
Was this article valuable?
Here are more articles you may enjoy.