City of Hope's Spirit of Life Gala on Oct. 26 is honoring Greg Case, president and CEO of Aon plc.
The annual charity event this year is being held at the Beverly Wilshire Hotel in Beverly Hills, and includes dinner, entertainment and a silent auction for a number of items and opportunities, including a one-week cruise in the Caribbean on a private yacht.
Each year a prominent honoree is selected for work done in their profession and for their philanthropic efforts. This year's event also recognizes the City of Hope's 100th anniversary.
Case, who is also a member of Aon's board of directors, oversees 62,000 colleagues in more than 120 countries. He also serves on the boards of Discover Financial Services, Lurie Children's Hospital, Civic Committee of the Commercial Club of Chicago, Chicago Symphony Orchestra, Field Museum of Natural History, Peggy Notebaert Nature Museum, CEO's Against Cancer and St. John's University School of Risk Management.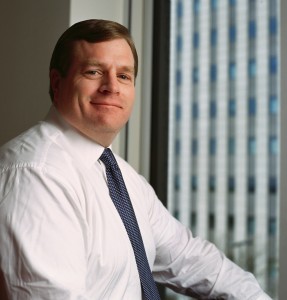 The Harvard MBA has nearly two decades of experience in the insurance and financial sectors. He joined Aon in 2005, and before that he served on the governing shareholders' committee at McKinsey & Company, an international management consultant, and led their global insurance and financial services practice.
Before McKinsey, he worked for the investment banking firm of Piper, Jaffray and Hopwood and at the Federal Reserve Bank.
"He's quite involved," said Ken Birkett, director of development for the National Insurance Industry Council for City of Hope. "He gets it. He's very business-like, but from minute one it's all about how much money can we raise, what's the net revenue on the event, and how can we help you."
Birkett noted Case has brought five new sponsorships to this year's dinner.
"We're pretty fortunate to have him as our honoree this year," he added.
The Spirit of Life Award is City of Hope's top honor. Honorees are selected each year for their notable contributions to the community in which they live and the profession in which they work.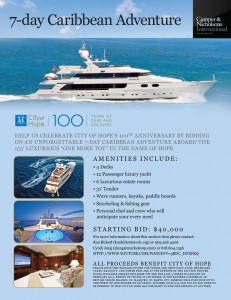 More than 600 industry professionals are expected to attend the event. Sponsorship packages from $5,000 to $50,000 are still available, as are individual seats. Paid admission includes a reception, dinner and post-gala dancing. Tribute journal pages are also on sale.
One of the highlights of the event promises to be an auction. One item on the auction block includes a week on insurance executive Gary Markel's yacht in the Caribbean. The 155-foot, 12-passenger yacht has four decks, six estate rooms, and comes with wave runners, kayaks, paddleboards, snorkeling and fishing gear and a personal chef.
The starting bid on the cruise is $40,000.
NIIC comprises representatives from life and property/casualty companies, law firms, brokers, accounting firms, reinsurers, executive placement firms and actuaries in the insurance industry.
To register for the event or get more information visit City of Hope's NIIC webpage.
Was this article valuable?
Here are more articles you may enjoy.