Farmers Insurance Group, which filed nine class actions in May against nearly 200 communities in the Chicago area, is withdrawing its lawsuit.
The suit accused the Illinois municipalities of failing to prepare for severe rains and flooding. It argued that the local governments should have known rising global temperatures would lead to heavier rains and should have done more to fortify their sewers and stormwater drains.
Some have speculated it could be the first in what could be a wave of litigation over who should be liable for the possible costs of climate change.
Farmers spokesman Trent Frager offered a statement on the sudden change of heart.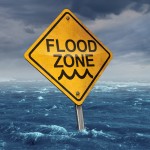 "Farmers initiated this litigation in an effort to recover money on behalf of our policyholders for certain losses they sustained that could have been avoided by the cities and counties named in this lawsuit. We hoped that by filing this lawsuit we would encourage cities and counties to take preventative steps to reduce the risk of harm in the future. We had hoped to give a voice to customers."
Evidently the threat of the suit was enough.
"We believe our lawsuit brought important issues to the attention of the respective cities and counties, and that our policyholders' interests will be protected by the local governments going forward," the Farmer's statement reads. "Therefore, we have withdrawn the suit and hope to continue the constructive conversations with the cities and counties in Chicagoland to build stronger, safer communities."
The class-action suits were filed in areas around Chicago that have been affected by flooding in recent years.

Related Articles
Insurer's Climate Change Class Actions: More to Come?
Will Energy Firm Executives Be Sued for Ignoring Climate Change?
Oregon Judge Dismisses Climate Change Lawsuit