Commercial insurance prices increased by 4 percent in aggregate during the first quarter of 2014, marking the lowest level of growth since fourth-quarter 2011, according to a new survey by Towers Watson. The increase is a full percentage point lower than last quarter and a steep drop from the 7 percent reported in first-quarter 2013.
The global professional services company's Commercial Lines Insurance Pricing Survey (CLIPS) compares carrier pricing on policies underwritten during the first quarter of 2014 to those underwritten in the same quarter of 2013.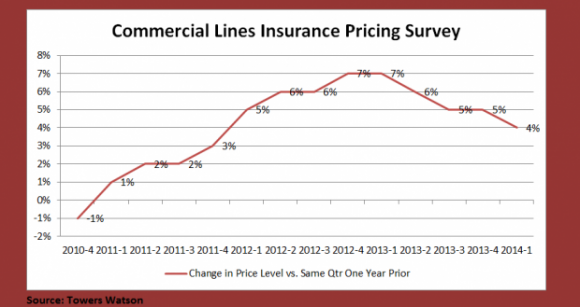 Prices increased for all lines of business, according to the survey, with most in the low- to mid-single digits. But with the exception of professional liability, increases were lower than those reported in the fourth quarter of 2013.
Employment practices liability experienced the largest price increase year over year, with excess/umbrella liability and commercial auto also showing substantial increases.
Specialty pricing increased at a lower rate than pricing for standard lines. Account size was not a significant factor.
Loss ratios improved 2 percent for accident-year 2014 to date compared to the same period in 2013 (excluding catastrophes), as earned price increases continued to more than offset low claim-cost inflation, according to Towers Watson.
In aggregate, carriers reported approximately 1 percent claim-cost inflation for 2013 and 2 percent for 2014.
Source: Towers Watson
Topics Trends Commercial Lines Business Insurance Pricing Trends
Was this article valuable?
Here are more articles you may enjoy.