Nissan Motor Co. will introduce cars that park themselves by 2016, Chief Executive Officer Carlos Ghosn said, as the Japanese carmaker rushes to be among the first to offer automated driving.
The feature, along with technology enabling cars to autonomously navigate congested highways, will be available in a wide range of vehicles, Ghosn told reporters today in Tokyo. Two years later, the company plans to offer vehicles that can change lanes automatically, and by 2020, they'll be able to handle intersections on their own, he said.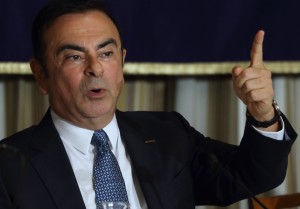 "You need to be first with very significant features," said Ghosn, who is also CEO of France's Renault SA. "There's always a premium with those who come first."
Carmakers including Nissan, Toyota Motor Corp. and Daimler AG, along with technology companies such as Google Inc., are accelerating research into systems that can make driving partly or fully automatic. Potential benefits include reducing traffic accidents and congestion and allowing people to use the time in transit for activities other than driving.
Ghosn, 60, said the first automakers to introduce automated-driving features will have an advantage as new technologies are associated with the brands that introduced them. Nissan, whose Leaf hatchback was the first mass-market fully electric car, said in August it planned to sell affordable, fully autonomous vehicles by 2020.
Automation Plans
Nissan faces a bevy of competitors looking to bring autonomous vehicles to market. General Motors Co., the largest U.S. carmaker, plans to have automated cars that can drive on controlled-access highways such as the U.S. Interstate system by 2020. Germany's Daimler is working to introduce trucks that steer, brake and accelerate independently as early as 2025.
Google said in May it would put at least 100 autonomous cars it designed in trials starting this year. The two-seat cars have a top speed of 25 miles (40 kilometers) an hour and no steering wheels, brake pedals and accelerator pedals. Google hasn't said if it will sell such vehicles.
Toyota, the world's largest carmaker, has said it favors more of a "co-pilot" approach to automated vehicles, rather than a driverless system. The Toyota City, Japan-based company hasn't said when it will sell the vehicles.
Several automakers already have deployed automatic parking capabilities in cars on the road. Toyota calls its system Intelligent Parking Assist and has offered it on cars such as the Prius hybrid. Ford Motor Co.'s Active Park Assist also is available in several models sold in North America and Europe.
30,000 Deaths
U.S. regulators are encouraging development of automated vehicle systems to reduce traffic accidents that annually kill more than 30,000 people. Regulatory and legal issues with self- driving cars, such as liability in accidents, have yet to be addressed.
A potential downside to driverless cars is that they may add to urban sprawl and pollution as they encourage longer commutes, according to Ken Laberteaux, senior principal scientist for Toyota's North American team studying future transportation.
"U.S. history shows that anytime you make driving easier, there seems to be this inexhaustible desire to live further from things," Laberteaux said in an interview yesterday at the Automated Vehicles Symposium in San Francisco. "The pattern we've seen for a century is people turn more speed into more travel, rather than maybe saying, 'I'm going to use my reduced travel time by spending more time with my family.'"
Government Steps
Local governments could take steps to avoid lengthier commutes by drivers of autonomous cars through measures such as tolls, said Laberteaux, who predicted technologies allowing drivers to turn over controls to the car itself may arrive this decade.
As carmakers compete to introduce automated driving, they need to work as much on software design as mechanical engineering, according to Maarten Sierhuis, director of Nissan's Silicon Valley research center in Sunnyvale, California, who is leading Nissan's automated-vehicle program.
Making cars that are "deliberative" in assessing road conditions, rather than just reactive, requires artificial intelligence, Sierhuis said in an interview this week at the San Francisco conference. Nissan is developing software to read and filter sensor data much as a human brain does, he said.
Ghosn said the rise of "global mega-cities" and aging demographics will fuel demand for self-driving cars. As large cities continue to grow, so will the need for innovations that ease congestion and reduce emissions, he said.
The increased safety of automated cars will allow older people to keep driving longer, Ghosn said. In Japan, which has the world's highest proportion of elderly and is the third- largest car market, more than half of the 4,411 people who died in traffic accidents in 2012 were 65 or older, according to data from the National Police Agency.
–With assistance from Yuki Hagiwara in Tokyo.
Copyright 2021 Bloomberg.
Topics USA Auto Autonomous Vehicles Japan
Was this article valuable?
Here are more articles you may enjoy.