A new report shows there hasn't been much ground gained in the battle to reduce the number of uninsured motorists on the road, and there's nowhere experts can point their fingers as an explanation of the pervasive problem.
From a percentage point of view, the nation's uninsured motorist dilemma is easing, but the bad news is that the cost of uninsured motorist claims has risen dramatically in the past decade, according to a report from the Insurance Research Council.
The report, "Uninsured Motorists, 2014 Edition," shows the percentage of uninsured motorists in the U.S. fell to 12.6 percent in 2012 from nearly 15 percent nine years earlier.
However, the report estimates that $2.6 billion was paid to cover uninsured motorist claims in 2012. That's a 75 percent increase over the 2003-2012 period studied, and that figure takes into account only bodily injury payments and not property damage.
"So these are very low estimates," said Patrick Schmid, the author of the report.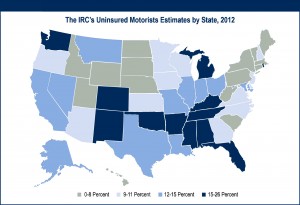 Stricter laws and regulations haven't had a noticeable impact, and while there's a temptation to blame the economy for a greater or fewer number of motorists buying auto insurance, there's no clear link there either, Schmid said.
Leading up the most recent recession, researchers noted that a 1 percent jump in the nation's unemployment rate seemed to lead to a roughly .5 percent increase in the number of insured motorists. Yet during the last recession the ratio of uninsured motorists to bodily injury claim frequencies continued trending down slightly.
"There's definitely some aspect of that, that's definitely relevant here," Schmid said, offering his opinion that economics do come into play where the uninsured motorist problem is concerned.
He added, "It's some measure of the economy, whether it's the unemployment rate or some other measure, it certainly is involved here."
The report shows that in some states where unemployment tends to be higher the reported uninsured motorist to bodily injury claim frequency ratios were higher. Oklahoma, Florida, Mississippi, New Mexico, Michigan and Tennessee were all above a 20 percent ratio.
Oklahoma had the highest ratio of any states at 26 percent, while Massachusetts had the lowest at 4 percent.
Of course, some of the most populous states had the highest numbers of uninsured motorists, such as California (4.1 million), Florida (3.2 million), Texas (1.6 million), Ohio (1.3 million) and Tennessee (1.2 million), the report shows.
The report estimates that there are nearly 30 million uninsured motorists in the U.S., which represent roughly one-in-eight drivers.
Penalties for driving without insurance vary by state, but according to Schmid there's no apparent correlation between stiffer penalties and a reduction in the percentage of uninsured motorists.
He reasoned that may be an issue where regulations may be tougher, but enforcement is not.
Regardless, with more motorists getting behind the wheel as the nation's population continues to grow, the problem is become a greater concern, the report states.
"Motorists who forgo purchasing insurance create a problem that is of great concern to auto insurance policyholders, insurers, regulators, and the general public," the report states. "In addition to paying for insurance that covers their own actions, insured drivers pay a portion of the costs incurred by drivers without insurance through uninsured motorist (UM) coverage. For insurers, costs associated with UM claims can be substantial."
Thanks to rising medical costs, expect paid claims due to uninsured motorist accidents to rise, Schmid said.
Adding a little fuel to fire up concern over the issue, Schmid noted that the decline in uninsured motorist rates could be a trend that's being driven by an increasing number of motorists getting cut-rate insurance.
"While we've seen that the percentage has been declining, if it's true there are less uninsured motorists, is it possible that the number of underinsured motorists have been increasing," Schmid said. "May be more people are getting low-limit coverage, and that's making the percentage of uninsured motorists fall. And some of the regulations out there may improve the uninsured motorists problem but worsen the underinsured motorists problem. We've actually seen there's a little of a tie in there."
See related stories
Consumer Group Recommends Ways to Mitigate Uninsured Motorists Dilemma
Number of Uninsured Drivers on Texas Roads Drops
Oklahoma Governor Signs Uninsured Motorist Bill
Rhode Island to Create Uninsured Motorists Identification Database
Topics Legislation Oklahoma
Was this article valuable?
Here are more articles you may enjoy.