The U.S. Federal Reserve on Tuesday announced plans to study the potential effects of forcing big insurance companies to meet tough funding restrictions required by the 2010 Dodd-Frank law.
The Wall Street oversight law directed regulators to identify big non-bank financial firms that could pose risks to the U.S. financial system. Those companies are regulated by the Fed and must meet capital requirements comparable to those for big U.S. banks.
Insurers American International Group and Prudential Financial have already received this designation, and regulators are considering also applying it to MetLife.
Those companies and other big insurers argue that bank-style capital requirements, which are limits on debt funding, do not fit their businesses and should be adapted.
The Fed on Tuesday said it would study the issue to "better understand how to design a capital framework for insurance holding companies it supervises" under the Dodd-Frank law.
"This is a welcome step in the right direction," MetLife spokesman Christopher Stern said. "Done properly, this study could go a long way toward helping the Federal Reserve understand the negative consequences of imposing bank-centric rules on life insurance companies and consumers."
Lawmakers from both side of the aisle have pressed the Fed to tailor its capital requirements for insurers. Regulators have yet not proposed rules for Fed-regulated nonbank firms.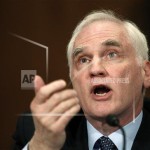 Fed Governor Daniel Tarullo told a Senate panel earlier this month that the regulator could tailor capital rules for insurance products that are not offered by banks, but lawmakers must revise Dodd-Frank if they want substantially different requirements for insurers.
The U.S. Senate and House of Representatives both want to change the wording of Dodd-Frank regarding capital rules for insurers, but the two chambers have approved different bills. So far, they have not agreed on a single plan.
The Fed said on Tuesday that it contacted insurance firms about its study and asked them to provide data by Dec. 31.
(Reporting by Emily Stephenson; Editing by Sandra Maler and Leslie Adler)
Was this article valuable?
Here are more articles you may enjoy.