Who hates that glass-half-full analogy?
I'm guessing more than half of you, but let's not let that stand in the way of using the clichéd-to-death philosophical quandary to illustrate a point being made by a new online tool that shows the progress states are making in planning for and implementing responses to climate change.
The Georgetown Climate Center's online tool offers a state-by-state view of how climate change is being addressed, putting state regulations and state laws into focus over any federal efforts.
The tool was unveiled last week, and the research that went into constructing it shows that a number of states have started implementing changes to make their communities more resilient, with nearly half of all states in some stage of planning to prepare for climate change.
The tool consists of an interactive U.S. map that enables visitors to click on any state and up pops a bubble that gives a brief overview.
Click on California, for example, and you'll find its most recent state-led plan is the California Climate Adaptation Strategy (2009), which has 48 out of 345 goals completed with 251 of those goals in progress.
You can click a "For more information" box and be led to a slew of knowledge, including laws and legislation, progress by sector (agriculture, water, biodiversity, infrastructure, coasts/oceans) and details on local and regional plans.
The center called out as ahead of the game states like Massachusetts, which is investing $50 million to prepare its communities and infrastructure for climate change impacts, and it highlights New York's Community Risk and Resiliency Act signed last month that requires state agencies to consider climate impacts in many permitting and funding decisions.
The center considers New York an "early actor" on climate change adaptation after it became one of the first states to develop statewide adaptation recommendations, with goals including preparing for impacts on infrastructure, agriculture, public health and water resources.
"Goals set by the state are also intended to help New York communities prepare for rising seas and flooding like that experienced during Hurricane Sandy," the center stated.
According to the center, 14 states have finalized state-led adaptation plans and nine states have some level of planning underway. The center focused on states where by executive order or through the legislature an adaptation plan was created.
That brings us to the half-full/half-empty entreaty.
It can be a positive thing to say nearly half the states are starting to take a serious look at ways to adapt to a changing climate.
However, if you examine those states that actually have bothered to set goals you'll find that few of those goals have been completed. Many of them have less than half of their goals in progress.
The value of those goals, some of which merely state objectives or are clearly the kind of goals that all parties could finally agree upon, are highly subjective.
The creators of the tool had a decidedly political – or polite, depending on how you look at it – answer to the half-full question.
"From our perspective, it's a start," said Aaron Ray, and associate at the center who was involved in creating the tool.
And yes, there are some positive takeaways that shouldn't be ignored.
One of the most interesting things researchers found when creating the tool is that states are creating adaption measures based on their own specific needs, meaning the leaders of those states are personalizing efforts to better adapt, according to Ray.
Certain states are undertaking goals that would enable them to better adapt to wildfires or drought, and others are focused on coastal flooding or intense precipitation. Therefore some of these measures being draw up might not be the typical lip service that comes from governments.
That means there are states and local governments mandating that homes be built with better roofs in areas that may someday soon be more prone to extreme winds, and that new developments along coastal areas my go up higher or further from shore. It could also mean reduced water waste in urban and agricultural use going forward in water-starved states like California.
Efforts to build better resilience are a positive step in the eyes of the insurance industry.
For an insurance industry point of view, David Kodama, senior director for research and policy analysis for the Property Casualty Insurers Association of America, tackled the half-full/half-empty query about the research showing half the states are undertaking adaptation efforts.
"I take it as it being half-full," Kodama said. "That we are gaining momentum and having public policy makers, individuals, businesses, the community, the government – along with the insurance industry, which has been feeling the economic impact of this extreme weather though insurance claims – that people are taking measures to limit the risk exposure for their stakeholder groups."
To be clear on which side he falls, Kodama added: "I do see it as positive momentum going forward. In terms of half-full or half-empty, I do see it as half-full that we are taking these proper steps."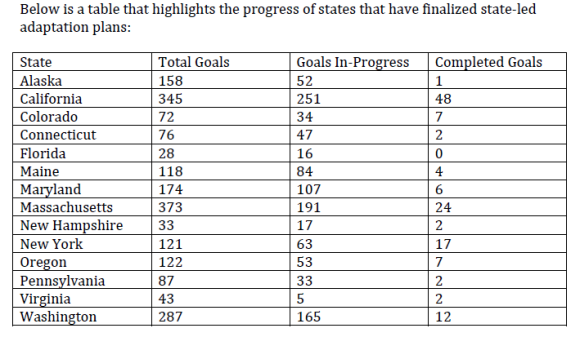 Was this article valuable?
Here are more articles you may enjoy.