Optimism over the future growth potential of independent agencies ties closely to the size of the independent agency, with larger agencies feeling more optimistic about future growth than their smaller counterparts, according to a new industry study.
Some 70 percent of large agencies — those with more than $10 million in revenue — said they felt "very optimistic" about future growth, while just 25 percent of small agencies — those with less than $1 million in revenue — felt "very optimistic," according to a Vertafore's first annual survey, "How Independent P&C Insurance Agencies Are Thriving in Today's Competitive Marketplace" conducted in partnership with analyst firm, Aite Group.
The survey found that 59 percent of midsize agencies — those between $1 million and $10 million in revenue — felt "very optimistic" and 46 percent of small agencies said "somewhat optimistic" about future growth.
The study revealed that increasing commoditization and reliance on personal lines, such as auto insurance, and limited technology adoption among smaller agencies were primary contributors to agencies' optimism on future growth.
Large and Midsize Agencies Are Very Optimistic About Their Future Success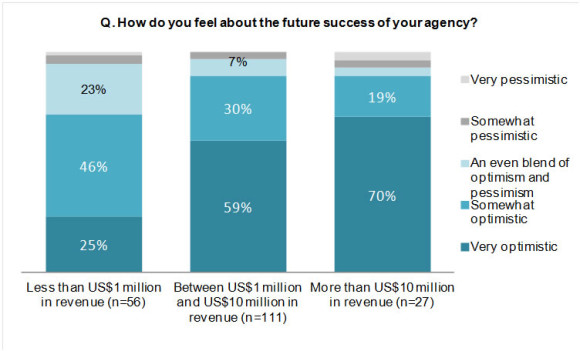 Source: Aite Group survey of 194 independent U.S. P&C insurance agencies, August to September 2014
In the past 15 years, major carriers such as Geico, Esurance and Progressive have significantly commoditized the personal auto insurance line of business and trained consumers to shop for the lowest price and purchase these products in a self-directed way through multiple channels, the report said. Although personal auto insurance sales represent a majority of small agency revenues, 39 percent of the survey's respondents said their businesses have not made or do not expect to make any changes to combat the direct-to-carrier shift.
The 2013 McKinsey & Company Study "Agents of the Future: The Evolution of Property & Casualty Insurance Distribution" analyzed the extent to which the personal auto insurance product line has become commoditized. According to that study, only 13 percent of consumers now rely solely on insurance agents during their information gathering, quoting, and purchasing journey for auto insurance. Even so, only 28 percent of shoppers avoid insurance agents altogether. Even for personal auto insurance, consumers still mostly rely on insurance agents for guidance in high-value areas like coverage selection. In other product areas that are more complex and more emotional, like homeowners insurance for insuring people's homes and commercial lines insurance for insuring people's businesses, the overall reliance on agents is significantly higher.
Despite these challenges, the Vertafore survey says agencies still find multiple growth opportunities as nearly 50 percent of fast-growing agencies invest in advanced technologies, and are diversifying into other product areas, and are expanding strategic partnerships with carriers.
Diversification of Product Lines
According to recent McKinsey research, 28 percent of consumers purchase auto insurance directly from carriers, compared to 13 percent who purchase directly from agents. This increase in commoditization of personal auto insurance has placed a heavy burden on agencies (particularly smaller ones with less than $1 million in revenue), where personal lines often account for 80 percent or more of their sales.
To help offset the decrease in sales of personal insurance, 44 percent of all agencies have diversified into new coverage and product types including, homeowners insurance, commercial lines, and emerging markets such as, cyber liability, identity theft protection, and worksite insurance products. The survey said these product lines are providing agents with more opportunity to deliver value in poorly understood coverage areas. Findings supporting the trend of diversification include:
Large agencies often utilize a higher percentage of commercial package and property insurance than small agencies. Large and mid-sized agencies often comprise at least 41 percent of total annual sales. Small agencies utilized less, according to the report.
Homeowners insurance is helping drive growth in agencies of all sizes. 58 percent of agencies of all sizes have experienced growth in homeowner's insurance sales over the last 24 months.
Among the new product lines, cyber liability insurance is emerging as a fast growth offering, with 50 percent of large agencies reporting an increase in sales for this type of coverage over the last 24 months.
Technology
Despite the slowdown in commoditized product lines, fast-growing agencies that invested in customer service initiatives are experiencing positive results.
Agencies of all sizes cited better customer service (50 percent) and improved cross selling (49 percent) as important drivers of growth in personal lines insurance. Similarly, nearly half of all agencies reporting fast growth (47 percent) have deployed advanced customer self-service capabilities on their websites including, chat, video conferencing, and mobile.
Strategic Partnerships
In addition to product line diversification and customer self-service capabilities, the survey found an increasing number of large agencies forging partnerships with carriers as a means of gaining access to their marketing and technology capabilities.
Nearly two-thirds (63 percent) of large agencies have partnered with insurance companies to access their full range of marketing management tools, while 56 percent are partnering to leverage their predictive analytics capabilities and build more targeted prospect lists.
The benefits are twofold: Insurance companies are able to market new, valued-added products in a more localized and personal manner, while agencies increase efficiency and engagement with customers as a result of access to advanced technology.
"Our primary goal for conducting this survey was to delve deeper into the current state of the independent agency market and get a better understanding of what factors are driving or inhibiting growth," said Todd Eyler, research director at Aite Group. "What we found is that the agencies who are thriving are those who recognize the profitability, scalability and agility that technology can bring to the table. Findings from the survey can be used as a playbook for agencies working to bridge the growth gap by finding profitable solutions to counteract disruptive industry changes."
Aite conducted the survey among 194 US-based P/C independent insurance agencies between August and September 2014. The research was conducted independently with no influence from Vertafore on the findings.
Vertafore is a provider of cloud-based insurance software and services with more than 20,000 agencies and carriers using Vertafore's insurance solutions.
Was this article valuable?
Here are more articles you may enjoy.