U.S. Senate leaders agreed on a deal to move forward with President Barack Obama's legislation to speed approval of trade agreements following a one-day rebellion by Democrats.
The Senate will hold votes Thursday on two related bills sought by Democrats, including one to prevent currency manipulation. Then, the chamber will decide whether to advance Obama's measure to speed approval of foreign trade agreements.
Senate Majority Leader Mitch McConnell, a Kentucky Republican, called the agreement reached Wednesday "a sensible plan."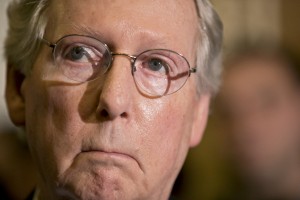 "We've come up with something that is fair," said Minority Leader Harry Reid, a Nevada Democrat.
On Tuesday, a rebellion by Democrats blocked Republicans from moving Obama's legislation forward. Many Democrats remain stung by the 1994 North American Free Trade Agreement, which is blamed by labor unions for a decline in U.S. manufacturing jobs.
"It's going to pass," said Senator Bill Nelson, a Florida Democrat, regarding the fast-track legislation.
Democrats have been insisting that the Senate package the trade bill with three other proposals, including one that would let the Commerce Department penalize imports from nations that manipulate their currencies.
Treasury Department
The currency measure pushed by Senator Charles Schumer, a New York Democrat, is opposed by the Treasury Department. Considering it separately may ease the way to passing the trade bill Obama wants. Schumer said the currency provision likely would draw a presidential veto, threatening to kill the fast- track legislation if it were included in that measure.
Schumer has repeatedly pushed for stronger action against countries — notably China — that drive down the value of their currencies to make exports more competitive.
In his latest bid, Schumer inserted into a customs bill a provision that would let the Commerce Department penalize imports from countries that manipulate exchange rates.
The Treasury Department opposes the Schumer provision, arguing it would expose the U.S. to retaliation and could violate U.S. obligations under existing trade agreements. Treasury prefers to address currency issues in other talks, led by finance ministers.
McConnell had agreed earlier to combine the fast-track bill with one of the measures sought by Democrats, which would assist workers who are displaced when jobs move overseas.
Trans-Pacific Partnership
Tuesday's defeat of the fast-track measure in a procedural vote was a temporary setback to the administration's trade agenda and Obama's hopes to close the 12-nation Trans-Pacific Partnership and submit it to Congress for an up-or-down vote without amendments.
Senator Debbie Stabenow, a Democrat from Michigan, a state that has suffered manufacturing job losses attributed by some to NAFTA, said she will co-sponsor an amendment with enforceable provisions on currency manipulation.
"It is our responsibility on behalf of American businesses and workers and communities to tell the administration what we expect them to fight for on behalf of the people of our country," Stabenow said.
AFL-CIO President Richard Trumka called on Democrats to continue to insist on combining the currency measure into the fast-track trade bill.
"Anything less leaves America's workers, domestic producers and communities behind," Trumka said in a statement Wednesday.
'Adequate Time'
Democratic Senator Sherrod Brown of Ohio, who is leading opposition to the trade legislation, said all of the bills "aren't going to be together exactly the way I wanted it, I understand that."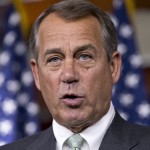 Brown said his concern is how much time McConnell will allow for debate. "I want there to be adequate time to debate," he said.
House Speaker John Boehner called the Democratic revolt a "little bump in the road" and predicted Congress will ultimately have enough votes to pass the measure. Following Senate consideration of the measure, "I expect we will act shortly thereafter," he said.
Former U.S. Trade Representative Ron Kirk told Bloomberg reporters and editors in a meeting Wednesday that Democratic opposition to the trade legislation isn't strong enough to prevent it from passing this year.
'Enough Democrats'
"I think there are enough Democrats who get it, who want to support the president," said Kirk, Obama's first trade ambassador.
Both aides earlier Wednesday expressed optimism that the Senate had the votes to pass the trade bill if leaders could agree on a plan. Tuesday's vote to advance the trade measure fell short, 52-45, with 60 needed.
The loss was a rebuke for Obama, who in recent weeks has been in meetings, on the telephone and in personal appeals seeking every possible Democratic vote.
Also on Wednesday, a U.S. official said the Obama administration expects to see additional support in Congress on trade promotion authority legislation as more terms of the Trans-Pacific Partnership trade agreement are made final.
The administration is close, and getting closer, to completing the trade deal and will continue to move ahead on the next round of negotiations, which will take place in Guam May 15-24, said the official who briefed reporters on condition of anonymity citing policy.
U.S. negotiators are working on separate sections to boost environmental protection and aid small- and medium-sized businesses, the official said.
–With assistance from Kathleen Miller, Carter Dougherty, Billy House and Brian Wingfield in Washington and Sangwon Yoon in United Nations.
Related:
Copyright 2023 Bloomberg.
Topics USA Legislation Politics
Was this article valuable?
Here are more articles you may enjoy.