The U.S. auto safety watchdog, long criticized as toothless and slow, is showing both bark and bite under its new boss – a testimony to his credentials as a safety expert and a hardening of the administration's policy after a wave of deadly defects.
Having taken the helm of the National Highway Traffic Safety Administration in January, Mark Rosekind has wasted no time in forcing reluctant companies into recalling millions of defective vehicles. In doing so, he has shown greater willingness than some of his predecessors to use the government's full legal powers over the industry, some for the first time.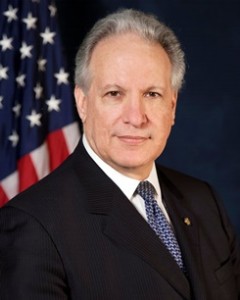 In the past week alone, the agency announced the biggest recall in history, involving nearly 34 million vehicles with potentially deadly Takata Corp air bags. It also scheduled a rare public hearing to review Fiat Chrysler recalls involving 10 million vehicles and warned of potential multiple penalties that could total $700 million.
Rosekind, 60, took over the regulator after a bruising year of criticism from the public and Congress over failures to respond quickly to major safety crises. And he came with clear marching orders from Washington: take dangerous vehicles off U.S. roads.
"We brought him in to bring it," Transportation Secretary Anthony Foxx told Reuters in an interview.
"Having someone who personifies the kind of aggressiveness with which we expect the agency to operate is healthy for external stakeholders as well as our own folks at DOT (Department of Transportation) and NHTSA."
Current and former officials say recalls did not always serve as a top priority for earlier administrators.
For instance, David Kelly, who filled the job on an acting basis at the end of the George W. Bush administration, focused on fuel economy.
During that administration, the agency's preferred approach was to address safety issues through voluntary service campaigns, though they were still outnumbered by recalls. Critics say a similar approach continued into President Barack Obama's administration.
"We finally have a NHTSA administrator who wants to be the cop on the beat," said Joan Claybrook, who led the agency in the 1970s.
Rosekind declined to be interviewed for the story.
David Strickland, the last permanent NHTSA administrator who served between 2010 and 2013, told Reuters that Rosekind was looking for new levers to bring change, just as past agency chiefs did.
"I used tools that were uncommon when I was administrator," said Strickland, who pointed to $49 million in civil penalties he levied against Toyota Motor Corp. Up to then, he said, the regulator's biggest ever fine had totaled only $1 million.
During his tenure, the agency drew fire for being slow to act on unintended acceleration in Toyota vehicles, and over an agreement with Fiat Chrysler to limit the recall of Jeep vehicles equipped with fuel tanks that could rupture and catch fire in crashes.
Now an attorney who represents an automaker group that includes Toyota, Strickland said the compromise reached on Jeep vehicles in 2013 prevented a drawn-out legal battle that would have kept unsafe cars on the roads for years.
The same recalls will now be scrutinized at Rosekind's hearing in July.
Several other former NHTSA chiefs were unavailable for comment.
Commanding Presence
The appointment of Rosekind, a former member of the National Transportation Safety Board, raised eyebrows because of his lack of auto industry background but was welcomed by safety advocates, who viewed his public safety expertise credentials as eclipsing those of many of his predecessors.
Distinguished by a towering frame and gray mane, Rosekind is a Stanford- and Yale-educated expert who worked as a scientific consultant before spending four years at the NTSB, where he took part in seven major accident investigations.
"He thrived under pressure and was a commanding, decisive presence at accident scenes," said Debbie Hersman, who chaired the NTSB at the time.
Former NHTSA officials say a lack of safety expertise has made it hard for some administrators to press for recalls internally.
A congressional report released last year said the agency for years either overlooked or failed to grasp evidence identifying a deadly ignition-switch defect in General Motors Co. vehicles, which has led to 104 deaths and 2.6 million recalls.
In its defense, the agency has pointed to its limited resources and enforcement powers. Its Office of Defects Investigation, responsible for monitoring 250 million vehicles on U.S. roads, has a staff of 51 and annual budgets of $10 million – about 4 cents per vehicle. By contrast, GM alone generated net income of $2.8 billion in 2014.
Yet acting within the same constraints, Rosekind has utilized some legal tools that have been available, but rarely used before.
In the Takata recall, the regulator for the first time is exercising its authority to expedite recalls under the 2000 Transportation Recall Enhancement, Accountability and Documentation (TREAD) Act. The Fiat Chrysler hearing will be the first of its kind for the watchdog since 2012 and the biggest ever.
"He's using the resources he has and working to change the culture at the agency from one that gets along with the auto industry to one that regulates the auto industry," said Clarence Ditlow, a leading auto safety advocate who heads Washington-based Center for Auto Safety. The agency now has a boss who is not tied to the auto industry, but knows Washington and regulation, Ditlow said.
Automakers and Wall Street investors expect the new tough regulator to drive up industry costs by forcing companies to boost reserves for future recalls after a record 64 million vehicles were recalled last year.
Yet bringing lasting change remains a daunting challenge for Rosekind, whose term will end along with Obama's in early 2017.
Takata's airbag recall alone could take years to complete as automakers scramble to line up replacement parts.
"The next two years is going to be a sprint," Rosekind said in March. "We have no time to waste."
(Additional reporting by Ben Klayman in Detroit, Editing by Soyoung Kim and Tomasz Janowski)
Topics USA Auto Washington
Was this article valuable?
Here are more articles you may enjoy.