SpaceX's Falcon 9 rocket en route to the International Space Station erupted in flames on Sunday moments after its launch, delivering a potential business interruption blow to the so-far highly successful private space company.
The craft was about 21 miles (34 kilometers) high when the accident occurred, NASA said. The blast occurred in the craft's upper-stage liquid-oxygen tank, moments before the main booster was set to separate following takeoff at 10:21 a.m. local time.
Hawthorne, Calif.-based SpaceX on Monday was searching for what destroyed its Falcon 9 rocket after liftoff over the weekend. The privately-held company had flown 18 successful missions with the Falcon 9 before Sunday's failure.
Preliminary analysis pointed to a problem with the rocket's second-stage motor liquid oxygen tank, SpaceX said.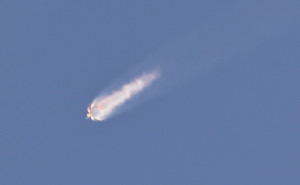 Cargo missions like Sunday's attempt are part of a NASA quest to open up spaceflight to commercial ventures, with the debut of astronaut trips on private craft operated by SpaceX and Boeing Co. to follow later in the decade, Bloomberg reported.
The project, if successful, would be one step closer to entrepreneur Elon Musk's aim to transport astronauts aboard commercial spacecraft.
On Sunday, Musk tweeted: "There was an overpressure event in the upper stage liquid oxygen tank. Data suggests counterintuitive cause."
His last Tweet to date was: "Cause still unknown after several thousand engineering-hours of review. Now parsing data with a hex editor to recover final milliseconds."
NASA Determined
NASA Administrator Charles Bolden expressed his disappointment over the loss, but said the commercial cargo program was designed to accommodate loss of cargo vehicles and the astronauts about the International Space Station have ample supplies over the next few months.
"SpaceX has demonstrated extraordinary capabilities in its first six cargo resupply missions to the station, and we know they can replicate that success," Bolden said in a statement. "We will work with and support SpaceX to assess what happened, understand the specifics of the failure and correct it to move forward. This is a reminder that spaceflight is an incredible challenge, but we learn from each success and each setback. Today's launch attempt will not deter us from our ambitious human spaceflight program."
SpaceX's insurer is Carpinteria, Calif.-based Starr Aviation, a division of Starr Indemnity & Liability Co. Starr Aviation Executive Vice President Charles Rudd confirmed SpaceX was his company's customer, but was not immediately able to offer further details.
The cost of what was lost wasn't immediately clear, nor was how the loss of the rocket itself will be paid for.
Andy Pasztor, an aerospace writer for the Wall Street Journal, in an interview with National Public Radio's Robert Siegel said the loss of the payload will be borne by the U.S. government since it was a government payload.
"The cost to the government, of course, is what was on the rocket, which is food, and all sorts of other cargo materials and part of a docking system for future commercial manned launches to the space station," he said.
Whatever that loss turns out to be, it will pale in comparison to the business that SpaceX will lose if the company can't show that it can get over this setback and resume the future launches it was contracted for.
Even with the failure on Sunday SpaceX is far head of any other private space firm, according to Pasztor, who said SpaceX has a $7 billion launch backlog.
"They have lots of business. The question is can they deliver on those promises, those contracts, in time to satisfy those customers," he said.
NPR's Robert Siegel interviews Andy Pasztor, aerospace reporter for the Wall Street Journal, about insurance options for SpaceX flights and launches.
Current customers include NASA, which uses Falcon 9 and SpaceX Dragon cargo ships to fly supplies to the International Space Station, and roughly 20 commercial and other satellite operators, many of which have contracts for multiple flights, according to Reuters.
SpaceX's President Gwynne Shotwell said the company expects to root out the cause quickly because it manufactures the rocket and all the major components, so outside suppliers won't be involved in the investigation
However, the next Falcon 9 rocket launch on SpaceX's schedule is now postponed, according to the National Oceanic and Atmospheric Administration, which reported on Monday that its Jason-3 Earth observation satellite scheduled for an Aug. 9 launch has now been delayed.
Sunday's accident destroyed the Dragon cargo ship bound for the station. It was the third fiery demise of a vehicle ferrying supplies to the International Space Station since October.
An Antares rocket launched by Orbital exploded in a fireball over a Virginia launchpad in October, weeks after NASA's contract award to SpaceX and Boeing.
A Russian cargo ship attempting to resupply the space station spun out of control in April and burned up in Earth's atmosphere in May. Another Progress capsule laden with supplies is slated to leave July 3 from Kazakhstan.
There doesn't appear to be any common theme behind the rash of failed missions, aside from the thin margin between success and catastrophe for rocket launches, NASA officials said.
Sunday's launch would have been SpaceX's seventh cargo-hauling trip to the space station under a $1.6 billion NASA contract.
Bloomberg and Reuters contributed to this report
Related:
Topics Profit Loss Aviation Trucking Aerospace
Was this article valuable?
Here are more articles you may enjoy.