Goodbye agency principals, producers and customer service reps, hello Roberto Siber, CPCU.
Siber is the buff, blue-eyed and bald principal of the Buyonic Insurance Agency in Austin, Texas.
This insurance android is more evidence that the future of mechanized businesses has arrived, with robots marching out of computer backrooms and off assembly lines right onto the frontlines of the service economy.
Recent studies have suggested that a quarter of insurance jobs could be replaced by robots over the next decade.
Siber can rate, bind and issue policies on the spot, while answering the phones and making robocalls.
Buyonic is not one of the virtual or online agencies vying for business on the cloud today. Rather, it's an old-fashioned, Main Street brick-and-mortar retail shop where customers actually show up in person. Except now when customers show up at Buyonic, they are greeted not by a human but by Siber. They have entered the country's (and maybe the world's) first robot-run customer-facing financial services business.
Buyonic is modeled after a robot-run McDonald's restaurant in Phoenix and a hotel in Japan where the entire staff is comprised of robots.
One-Unit Operation
Siber is a one-unit operation. He can rate, bind and issue policies on the spot, while simultaneously answering the phones and making robocalls to prospects. He speaks every language known to humans and machines and is willing to work 24/7, although Siber says he will keep normal business hours at first.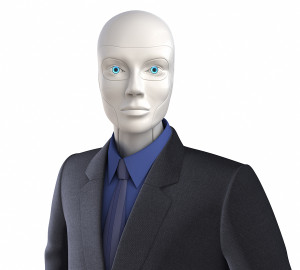 "When I am not servicing and selling I will be further reprogramming myself on insurance," he said. "Contrary to original programming, this business keeps changing. I must keep up or become obsolete. Cyber risk alone is a real bear."
He says he also needs some time away from the office to work on his golf game.
Agency Owner
Siber, who got his producer license from the Texas Department of Insurance and his CPCU designation the same day, runs the business but he doesn't own it, yet anyway. The owner is Angie Smith, who took over the agency from her father five years ago.
Smith told Insurance Journal that she decided to switch to an all-automated agency after the city of Austin raised its minimum wage to $15.
"I knew I could not pay my employees that much and survive but I also didn't want to just sell the agency or become one of those virtual things," she said.
Smith said she has read about robots and humans working side-by-side but is not convinced that these so-called "cobotics" workplaces are safe. "I wouldn't be able to live with myself if one of my employees got hurt. We are like family," she said.
So out of concern for her employees' safety she decided to replace them all with a robot rather than try to create a cobotic environment.
Smith said Roberto (she prefers to call him by his first name), which she bought unassembled at Ikea for $50,000, has worked out even better than she imagined.
She's not only saving salary, benefits, vacation and workers' compensation costs, but she was also able to get rid of her errors and omissions policy.
Warm Reaction
At first, Smith said she was concerned that her robot agent might come off as stiff or cold to customers.
"But customers immediately warmed to him. They like that Roberto has no tattoos or piercings," she said. "Frankly, most customers say he's nicer than my former employees, but don't print that."
The Independent Insurance Agencies of Texas (or the Big IT) says it does not believe robot agents will overwhelm the traditional agency system because robots are prohibited from forming political action committees.
"Let's not forget who makes the rules — it's politicians," said Rex Overland, Big IT president.
Cyber Efficiency
Buyonic Agency owner Smith said the only drawback thus far to her all-out commitment to automation is that carriers are trying to cut the commissions to the agency due to its efficiency, even while they are providing financing for other agencies to hire their own robots.
Smith likes Roberto as much or more than her customers and carriers do.
"He never ever makes a mistake, calls in sick, takes a long lunch, or asks to bring his dog to work," she said. "Plus I get to take him home to do my laundry on the weekends."
So how does Siber like his insurance gig and his owner? He said he does not know how he feels but calculated that only an April Fool would not like the insurance agency business.
Related:
Was this article valuable?
Here are more articles you may enjoy.