A former AIG executive is joining QBE to become CEO of its North American operations.
Russell Johnston will succeed David Duclos in the role of QBE CEO for its North American operation starting on May 31, and be based in New York.
Johnston, who has 25 years of industry experience, was most recently president of AIG's $6 billion Casualty Americas operation from 2011 through 2015, with responsibility for all U.S., Canada, Bermuda and London-based U.S. casualty underwriters.
At AIG, before heading the Casualty Americas unit, he also served as executive vice president and chief operating officer of AIG Commercial Insurance U.S., president and CEO of AIG Environmental and president of AIG Risk Management .
Duclos, who is retiring from full-time employment, plans to stay on as a non-executive director of QBE emerging markets and Equator Re. Additionally, he'll provide market expertise for various QBE Group operational initiatives.
QBE Insurance Group CEO John Neal credited Duclos with helping to both transform and refocus QBE North America into a division that has posted three consecutive years of performance improvement.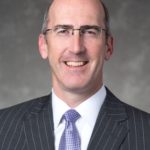 "Our business is now built on a sound platform for profitable growth as a specialist insurer and reinsurer," Neil said in prepared remarks.
Duclos told Carrier Management in a recent interview that QBE North America was moving to an open office environment and he planned to be out there in the same space as leader.
"I thought it was important for me to model that behavior, so a few other executives and I moved out of our offices and right onto the floor," he said. "It's great being out with the team. I do feel better connected, seeing more people on an informal basis and talking about what's going on."
Topics AIG
Was this article valuable?
Here are more articles you may enjoy.