The Insurance Marketing and Communications Association (IMCA) has elected Anna Hargis, director of advertising at Shelter Insurance, as chair of its board of directors for a two-year term.
Hargis has been a member of IMCA's board since 2009. Most recently, she served as executive vice-chair on the association's executive board. Hargis has also been the IMCA treasurer and headed numerous committees, including its annual conference committee.
In addition to Hargis, other members elected to IMCA's executive board for two-year terms are:
Executive Vice-Chair – Emily Hathcoat, CNA
Treasurer – Valerie Foster, Monitor Liability Managers
Immediate Past Chair – Mark Friedlander, The Main Street America Group
Active IMCA members participated in the online election process held in late August. Results of IMCA's election of its 2016-17 board of directors also include four new directors.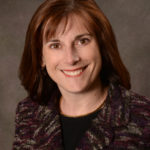 Joining the IMCA board as directors are Jim Flynn, president and certified brand strategist at Hult Marketing; Taylor Moore, marketing manager of McLarens Global Claims Services; Paula Negro, director of content, communications and media relations at Starr Companies; and Bethany Schacherer, senior marketing partner at American Modern Insurance. Flynn and Negro were elected to two-year terms, while Moore and Schacherer were elected to fill the remaining year of open positions on the IMCA board.
In addition to Flynn, Moore, Negro and Schacherer, four IMCA board directors were re-elected to two-year terms: Angela Kim of Allstate; John Abbott of Legacy Marketing Group; John Reints of IBM; and Lauri Klotz of Risk Placement Services.
Current board members not up for re-election this year included Dave Evans of Independent Insurance Agents and Brokers of America/Trusted Choice; Debbie Luera of Integrion Group; and Leslie Lash of AmWINS Group.
Was this article valuable?
Here are more articles you may enjoy.