Global insurance agency Lockton has named Peter Clune to be its next U.S. president and chief operating officer, effective May 1, 2017. He will succeed Glenn Spencer who was previously named president and CEO of Lockton Inc.'s global operations effective on the same date.
John L. Lumelleau, president and CEO of Lockton, Inc. called Clune "an important part of a talented leadership team that will guide our growth in the coming years."
Clune joined Lockton in 2006 as chief operating officer of Lockton's St. Louis operation. For the past six years, he has been an operations executive working with Lockton offices across the U.S. on recruiting, business development and client service.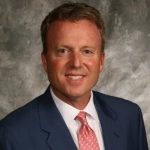 Clune previously worked with Zurich for 10 years. He started his career as a producer with a Kansas City insurance agency.
Was this article valuable?
Here are more articles you may enjoy.