At retirement communities from California to Florida, golf carts have become a way of life. They're energy-efficient, cheaper to buy and maintain than regular cars, and, seniors say, fun to drive. For many, they're the main way to get from doctor's appointments and dance classes to restaurants and shopping centers.
But as the bare-bones buggies move from the back nine to the blacktop, safety experts and advocates for seniors say they're worried about them sharing the road with larger, faster cars and trucks.
"People in these vehicles are at as much risk as someone on a bicycle," said Jana Lynott, a senior policy adviser at AARP who specializes in transportation. "There's very little protection. It doesn't make a lot of sense to throw them onto roads where traffic is 45, or even 35, miles an hour."
At least two dozen states have passed laws authorizing local governments to allow golf carts on public roads and regulate their use, said Amanda Essex, a policy associate at the National Conference of State Legislatures. Many states prohibit them from being driven at night, limit them to roads with slower speed limits, or require their drivers to have a license.
At least four states — California, Louisiana, Nebraska and South Carolina — enacted legislation related to golf carts last year and at least nine others considered it, Essex said.
And it's not just a Sun Belt thing. Cities in states such as Minnesota and Illinois permit golf carts on some local streets. In all, more than 350 cities and counties have adopted laws that allow golf carts on their roads, many in the last few years, according to the International Light Transportation Vehicle Association, a trade group that represents golf cart manufacturers.
"They're simple to operate and maintain, they're less costly, and they're a boon to the environment," said Fred Somers, the trade association's general counsel. "As the years go by, people want the freedom of making short runs in a vehicle that doesn't cost an arm and a leg."
State Laws Vary
Golf carts traversing the roadways aren't all alike, and states have different ways of dealing with them. And they're not just driven by seniors: While golf carts have long been common on college campuses and in vacation areas, some people are hopping on them to get to work and families are using them for short trips.
An article in the Harvard Business Review last year suggested that it's golf carts and vehicles like them, rather than the pricier Tesla, that represent the real potential for growth in the global electric vehicle market.
Personal golf carts have a top speed of less than 20 mph. They may be gas powered or electric, and they aren't required to meet any federal safety standards. Some states require drivers to be licensed; others don't.
Low-speed vehicles (LSVs) are similar, but their top speed is 25 mph and they're often electric. Because of their higher speed, they must meet certain federal safety standards, such as being equipped with seat belts, windshields, mirrors and turn signals.
The number of states that allow LSVs on public roads has skyrocketed from 15 in 2001 to 47 today, according to the Insurance Institute for Highway Safety, a nonprofit research group funded by auto insurance companies. Most states restrict them to roads with speed limits of 35 mph or less; in Texas and Alaska, the speed limit is 45 mph. Only Connecticut, Mississippi and Montana don't allow them.
Safety experts say there's not much of a difference between golf carts and LSVs when they share the road with bigger and heavier cars.
"If they get hit by a much larger vehicle, they aren't going to hold up," said Jessica Cicchino, a vice president at the highway safety institute, which doesn't think LSVs and golf carts should be permitted on roads with cars, especially roads with higher speed limits.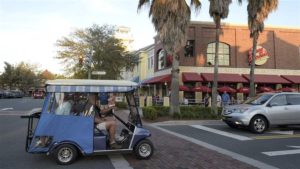 Cicchino said her group did a crash test in 2010 between an LSV and a Smart car. The driver in the LSV would have suffered serious or fatal injuries, she said. A driver in a regular golf cart would likely be even more at risk.
"They are not crashworthy," Cicchino said. "An SUV can weigh three or four times as much as a golf cart or an LSV."
Cicchino said it's particularly worrisome when older people are involved. "They're more fragile and more susceptible to injuries in a crash, so it can be especially dangerous."
Somers, of the golf cart industry group, disputes the insurance institute's position. "We've done our own studies that tell us these vehicles are very safe when they're used properly," he said. "They are engineered very carefully."
Many golf cart accidents or fatalities involve driver negligence, distraction, or drug or alcohol abuse, he said.
Somers said his industry agrees that golf carts shouldn't be allowed to mix with traffic on roads with speed limits that exceed 25 mph. And, he said, golf cart operators driving on public roads should be required to have a driver's license or be at least 16 and have completed driver's education.
"You shouldn't allow people who can't qualify for a driver's license, whether because of age or sight, to operate them," he said. "It's too dangerous."
Golf Cart Love
In Laguna Woods Village, a gated adults-only community in Southern California, more than 2,000 of the 18,000 residents use golf carts, mostly electric, to get around inside the community and on some public roads outside, spokeswoman Heather Rasmussen said. Their popularity grew when gas prices were high and has continued because of increased environmental awareness, she said.
At Sun City, a retirement community outside Phoenix, about a third of the 40,000 residents drive LSVs on public local streets, said Joelyn Higgins, of Sun City Recreation Centers. More seniors have been using them since public transit in the area was eliminated several years ago, she said.
At The Villages in Florida, tunnels and bridges designed for golf carts run throughout the community's 40 square miles. In some areas, the carts share paths with bicyclists and walkers; in others they share the road with cars.
Christopher Laufersky, sales manager for The Villages Golf Cars, said his dealership, the largest in the area, sold 3,459 conventional golf carts last year, 147 more than in 2013.
New golf carts cost from about $8,000 to $11,000, less than the $12,000 to $15,000 price tag for LSVs, Laufersky said. Used ones run from $1,500 to $10,000. Many customers spend even more putting in accessories, such as upgraded lumbar seats.
Many residents customize their carts, getting their names painted on them as well as their favorite sports teams' colors and logos.
"They're just fun to ride around in. I love it," said resident Mark Gallo, 58, who runs golf cart operations and teaches safety classes for Villages Homeowners Advocates, an elected group of volunteers that represent residents. His golf cart is painted the orange and blue colors of Auburn University, his alma mater. And his and his wife's names are painted on the side.
Gallo said some residents soup up their carts by adjusting engine capacity so they can go faster. It's a fairly common practice, and it's illegal. Souped up carts are considered unlicensed vehicles when driven on a public roadway. Violators can be fined and charged with a misdemeanor.
In the first quarter of 2016, Sumter County Sheriff's Office Lt. Robert Siemer said there were 35 crashes involving golf carts at The Villages. And his agency issued 25 tickets for everything from driving on the wrong road to DUI to driving with an open container of alcohol.
The Florida Highway Patrol, which tracks LSV crashes, reported 10 deaths and 286 injuries statewide last year.
Florida prohibits people from driving golf carts on public roads if their driver's license has been revoked, suspended or canceled. But some seniors decide to hang up their car keys on their own because of failing eyesight, dementia or other medical issues, said AARP's Lynott.
"Those same reasons would make them not really fit to drive an LSV or golf cart," she said.
Lynott said state and local officials need to enact golf cart laws that protect the public. But they also need to design and build roads that are safe for golf carts, such as providing marked golf cart lanes on roads with higher speed limits, using medians and landscaping to slow down traffic, and posting signs to make sure car drivers know to watch out for golf carts.
"Golf carts raise questions about safety, but they're obviously popular," she said. "So we need to be thinking about how to make it safer to use them on our streets."
Source: Republished with permission from Stateline, which is published daily at pewtrusts.org/Stateline. Author: Bergal is a reporter for Stateline.
Topics California Florida Auto
Was this article valuable?
Here are more articles you may enjoy.