During 2016, the United States experienced 15 weather and climate disasters with insured and uninsured losses exceeding $1 billion each across the United States.
Overall, these events resulted in the deaths of 138 people and had "significant economic effects" on the areas impacted, according to a new report.
The major U.S. climate events in 2016 included a drought, four floods, eight severe storms, a tropical cyclone, and a wildfire.
According to the report from the National Centers for Environmental Information (NCEI), this was the second highest number of billion-dollar events in the 37-year record (1980–2016), one less than the 16 that occurred in 2011.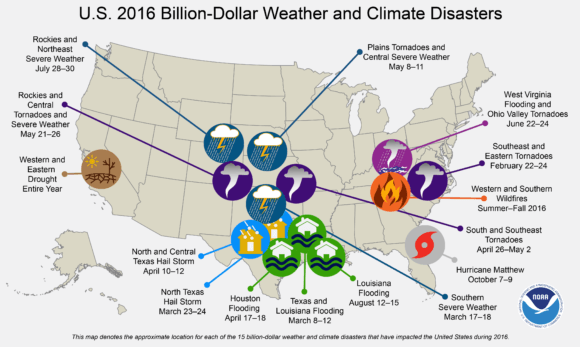 Four of the events in 2016 with losses exceeding $1 billion were inland flooding events not associated with named tropical storms. This doubled the previous record for number of billion-dollar inland flood events in one year, which occurred several years, most recently in 2015.
The 1980–2016 annual average is 5.5 events; the annual average for the most recent five years (2012–2016) is 10.6 events, according to NCEI, a division of the National Oceanic and Atmospheric Administration (NOAA).
Government and private insurance data sources used in the loss estimates include Insurance Services Office (ISO) Property Claim Services, the National Flood Insurance Program, the Presidential Disaster Declaration assistance, and the Department of Agriculture's National Agricultural Statistics Service & Risk Management Agency.
The insured and uninsured direct loss components include: physical damage to residential, commercial and government/municipal buildings, material assets within a building, time element losses (i.e., businesses interruption), vehicles, boats, offshore energy platforms, public infrastructure (i.e., roads, bridges, buildings) and agricultural assets (i.e., crops, livestock, timber). These loss assessments do not take into account losses to natural capital/assets, healthcare related losses, or values associated with loss of life.
Weather Summaries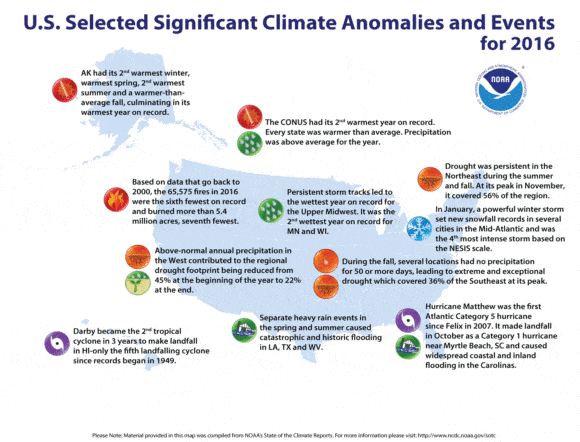 The average annual temperature in 2016 for the contiguous United States was 54.9°F, which was 2.9°F above the 20th century average. This was the second warmest year of the 122 years on record, behind 2012 (55.3°F), and the 20th consecutive warmer-than-normal year for the United States (1997–2016).
The contiguous U.S. average annual precipitation was 31.70 inches, which is 1.76 inches above the long-term average. This made 2016 the 24th wettest year on record for the nation, and the fourth consecutive year with above-average precipitation.
State Events
On the statewide level, the report says 2016 was a year of temperature and precipitation extremes. Every state in the union had an average annual temperature that was among the warmest seven of their historical records, and all but Iowa, Maine, Nevada, Oregon and Utah had one of their warmest five years. Georgia was record warm.
"The breadth of the 2016 warmth is unparalleled in the nation's climate history. No other year had as many states breaking or close to breaking their warmest annual average temperature," the report says.
Precipitation also saw regional extremes. As is typical with a strong El Niño episode, precipitation across much of the West was above normal for the year. California's precipitation was 3.27 inches above the 20th century average while Washington's was 7.36 inches above average. Several Upper Midwest states were much wetter than normal for the year. Both Minnesota and Wisconsin had their second wettest year, with Minnesota's 2016 total just 0.3 inch less than its wettest year on record, 1977.
On the opposite end of the rain meter, last year was the fourth driest year for Connecticut, ninth driest for Georgia and tenth driest for Massachusetts.
For most of the year, Alaska "baked" with record heat at the local and statewide level. With a statewide record that dates to 1925 (92 years), Alaska had its second warmest winter, warmest spring, second warmest summer and a warmer-than-average fall. The persistent heat led to Alaska's third successive warmest year on record.
Source: NOAA National Centers for Environmental Information (NCEI) U.S. Billion-Dollar Weather and Climate Disasters (2017).
Was this article valuable?
Here are more articles you may enjoy.