Most commercial insurance prices in the U.S. were nearly flat during the fourth quarter of 2016, although prices continued to go up for commercial auto.
The most recent Commercial Lines Insurance Pricing Survey (CLIPS) from brokerage and advisory firm Willis Towers Watson compared prices charged on policies written during the fourth quarter of 2016 to those charged for the same coverage during the equivalent quarter in 2015.
Most price changes were comparable with those reported in the third quarter. Data for two lines — workers' compensation and commercial property — indicated modest price decreases, while directors and officers data continued to suggest more significant, albeit moderating, price reductions.
In contrast, commercial auto once again experienced meaningful price increases, according to the report.
For most other lines, price increases were in the low single digits. Price changes were fairly similar across segments, though slightly negative for large accounts and marginally positive for small and mid-market ones.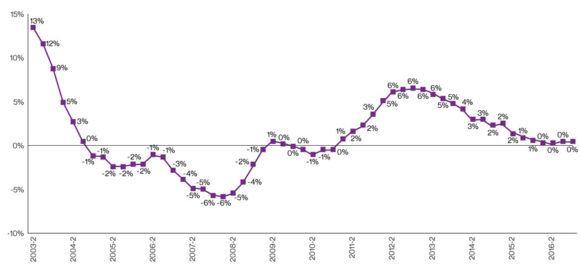 "The rapid growth in the rate of price increases seen in 2012 has since slowed for much of the commercial market, but not for commercial auto. This line's cumulative price increase since 2012 is over 25 percent, compared to about 10 percent for the surveyed commercial market as a whole," said Alejandra Nolibos, director in Willis Towers Watson's Americas Property & Casualty Insurance practice. "Loss experience has been benign for many of the other lines, but the dynamics of the auto business are changing quickly and dramatically, ultimately driving challenging results and rate need for the line."
Source: Commercial Lines Insurance Pricing Survey (CLIPS)
Topics Commercial Lines Business Insurance Willis Towers Watson
Was this article valuable?
Here are more articles you may enjoy.