The Federal Emergency Management Agency (FEMA) supported 59 major disaster declarations and 16 emergency declarations in 2017, a year during which unprecedented disasters affected more than 25 million Americans, almost eight percent of the U.S. population.
In its year-end review, FEMA notes it was a record busy year for FEMA employees and for state and local emergency responders across the country, as well for the federal flood insurance program, which FEMA manages. Thousands of emergency workers remain engaged in recovery efforts including in Puerto Rico and the U.S. Virgin Islands.
It was a year when the federal government authorized more than $7 billion in disaster funds.
The 2017 hurricane season produced 17 named storms, 10 of which became hurricanes (six of them major hurricanes) — including Harvey and Irma, the first two major hurricanes to hit the continental U.S. in 12 years.
In response to the hurricanes, 48 states and the District of Columbia assisted with response and recovery operations in Texas, Florida and the U.S. territories in the Caribbean, through emergency management assistance compacts, according to FEMA.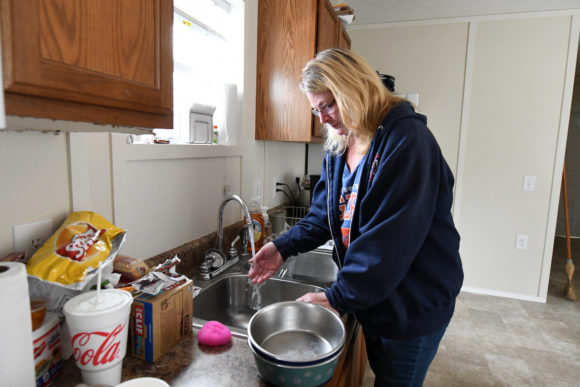 Sour Lake, Texas–December 16, 2017–Local resident Nancy Bishop does chores in her new home which is part of the Hurricane Harvey housing mission coordinated by the state, local and federal government. Jocelyn Augustino/FEMA photo.
FEMA and other federal agencies provided 138 million meals, 194 million liters of water, 10.2 million gallons of fuel and installed 1,310 generators to help survivors affected by the four major hurricanes.
This year was also historic for wildfires across the western states that included two of the most devastating to ever impact California: the Tubbs fire in the northern counties, and the Thomas fire, which gained the distinction of becoming the largest wildfire in modern California history.
Flood Insurance
The historic disasters of 2017 created one of the busiest years for the National Flood Insurance Program (NFIP) to date — the NFIP has paid out more than $8 billion in flood insurance claims thus far.
During the hurricane season, NFIP streamlined the flood insurance claims process for policyholders by directing private insurance carriers to make advance payments of up to $20,000 on flood claims and to waive the initial proof of loss requirement in many cases.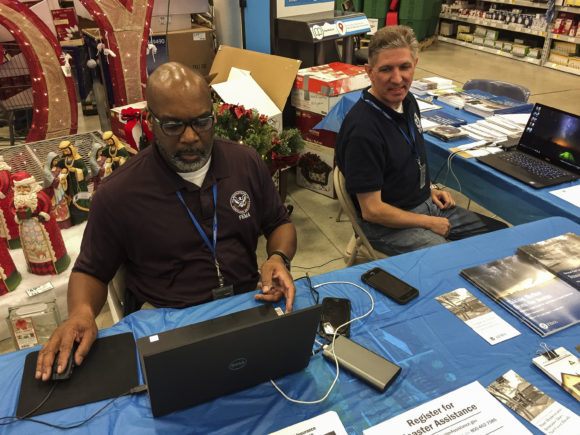 FEMA Mitigation Community Outreach at Lowe's in Fort Myers, Florida providing assistance to Hurricane Irma survivors visiting the store. FEMA photo.
The year 2017 was also when FEMA entered into a reinsurance agreement with 25 reinsurance companies, transferring risk to the private sector. FEMA says this allowed the program to recover $1.042 billion to pay NFIP claims when the losses of Hurricane Harvey exceeded $8 billion.
Billions in Disaster Aid
FEMA obligated more than $7.2 billion in individual and public disaster assistance in 2017. Nearly five million households have registered for the individual assistance program, which provides direct support to individuals and households in impacted areas. This year, FEMA received more registrations than for Hurricanes Rita, Wilma, Katrina and Sandy combined.
FEMA also obligated billions of dollars to repair infrastructure through the public assistance program, and to reimburse state, local, tribal and territorial governments for clearing debris and rebuilding roads, schools, libraries and other public infrastructure.
Puerto Rico Update
Puerto Rico was devastated by Hurricane Maria, which hit on Sept. 20. Three months later, on December 20, FEMA provided an update on its recovery efforts in Puerto Rico:
FEMA said 10,000 homeowners and renters in Puerto Rico have received $724 million in federal grants and more than $144 million in low-interest disaster loans have been made to 3,700 businesses and residents. The National Flood Insurance Program had paid approximately $2.8 million in claims.
More than 9,600 survivors are being temporarily housed in Puerto Rico and 38 other states through FEMA's shelter assistance program.
According to FEMA, more than 2,000 contractors have been participating in efforts on the ground to restore power along with seven power-industry incident management teams from 15 states. FEMA said the teams are working to restore power to the most populated areas before moving into more densely populated areas.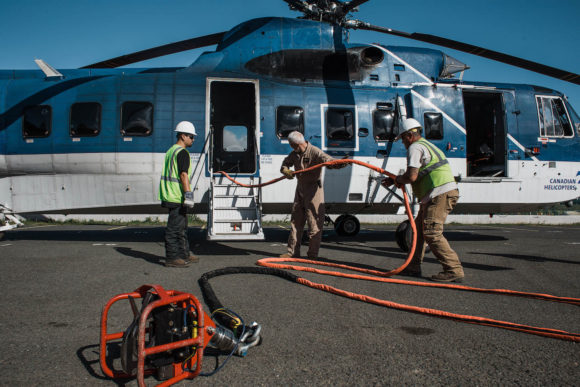 Peñuelas, Puerto Rico, December 18, 2017- In partnership with FEMA and U.S. Army Corps of Engineers (USACE), energy contractors prepare to carry power poles to areas for installation. FEMA photo.
As of Jan. 2, according to Puerto Rico's main electricity utility, AEE, about 30 percent of Puerto Rico remains without power. According to the government, all 68 hospitals are open and 95 percent of telecommunications service has been restored. Most water treatment centers are operating, and more than 96 percent of residents now have access to drinkable water. More than 30 percent of roads remain closed.
As of Jan. 2, nearly 15,000 federal civilian personnel and military service members, including more than 3,039 FEMA personnel, remain on the ground in Puerto Rico and the U.S. Virgin Islands for recovery operations from Hurricanes Maria and Irma, according to FEMA.
Agency Staffing
In its 2017 year-end review, FEMA noted that its employees got a new boss in 2017. Brock Long was sworn in as FEMA administrator on June 23. Long has nearly two decades of emergency management experience, including as a former Alabama emergency management director and FEMA regional hurricane program manager.
According to FEMA, thousands of FEMA staff continue to work across country including in Puerto Rico. During 2017, thousands of civilian employees and military service members, from more than 30 agencies and departments across the federal government, were deployed. FEMA said it increased call center staffing tenfold and increased the overall number of housing inspectors fourfold. The agency's search and rescue task forces helped local governments search more than 30,900 structures and saved or assisted more than 8,800 people.
Source: FEMA
Topics Catastrophe USA Flood Hurricane
Was this article valuable?
Here are more articles you may enjoy.