Mergers and acquisitions of insurance agencies last year broke all records in 2017, according to OPTIS Partners' annual report. The OPTIS database recorded 604 deals in the United States and Canada in 2017, a 31 percent jump from 461 in 2016.
"This whopping increase exceeded expectations," said Timothy J. Cunningham, managing director of OPTIS, an investment banking and financial consulting firm specializing in the insurance industry. "We expect the beat to go on in 2018."
The report covers agencies selling primarily property/casualty insurance, agencies selling both P/C and employee benefits, and employee benefits agencies.
In 2017, private equity/hybrid buyers accounted for 382 transactions, 63 percent of the total, compared with 56 percent in 2016.
"The concentration of PE /hybrid buyers has grown steadily since we began tracking deals in 2008 when only four of the top 10 buyers had private equity backing," he said.
The 2017 report lists PE/hybrid as a new buyer category. It includes all private-equity-backed buyers plus certain privately owned buyers with material internal or external financial support for acquisitions.
The top five buyers were Acrisure (92 acquisitions), Hub International (49), Alera Group (38), Broadstreet Partners (32) and Gallagher (30). All were in in the PE/hybrid category except publicly owned Gallagher.
Privately owned brokerages completed 128 transactions from 105 unique buyers in 2017, up from 114 acquisitions from 87 separate buyers in 2016. This was a record number both of deals and unique buyers.
By seller type, property/casualty-focused agencies dominated the list. They accounted for 301 of the 2017 transactions, 49.8 percent of the total.
Employee benefits brokers accounted for 174 transactions, 28.8 percent of the total, nearly a 90 percent increase from 2016.
"The explosion in employee benefits agency sales was fueled by Alera, Acrisure, and several other active acquirers," Cunningham said.
Agencies selling both property/casualty and employee benefits coverages were sold in 86 deals last year.
There were 43 sales in the "other" category, which includes managing general agents, third-party administrators and other types of sellers.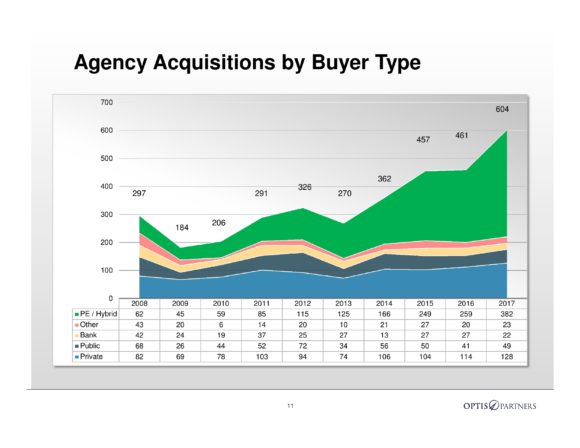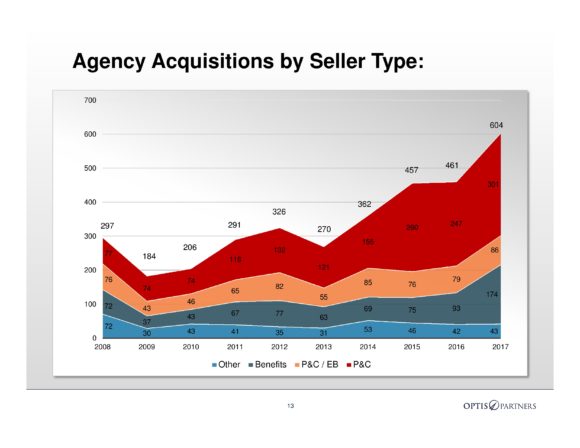 The statistics pointed to these lessons, according to Daniel P. Menzer, partner:
The inventory of interested sellers remains high.
It's hard to perpetuate agencies internally. Third parties are willing to pay much more than internal buyers. Few agency owners will leave that much money on the table.
A strong economy, a stable insurance market, and easy access to relatively inexpensive capital for buyers all spurred activity.
There are plenty of investors and lenders willing to fund PE/hybrid buyers.
Buyers should pay attention to cash flow and be careful not to overpay.
Sellers should identify the best cultural and operational fit and take advantage of strong pricing before things change.
The actual number of sales was greater than the number reported, as many buyers and sellers do not report transactions, and some acquirers do not report small transactions, Cunningham said. However, he said, the OPTIS database tracks a consistent pool of the most active acquirers, including other announced deals, to provide a "reasonably accurate indication of deal activity in the sector."
Focused exclusively on the insurance distribution marketplace, Chicago-based OPTIS offers merger & acquisition representation for buyers and sellers, including due-diligence reviews.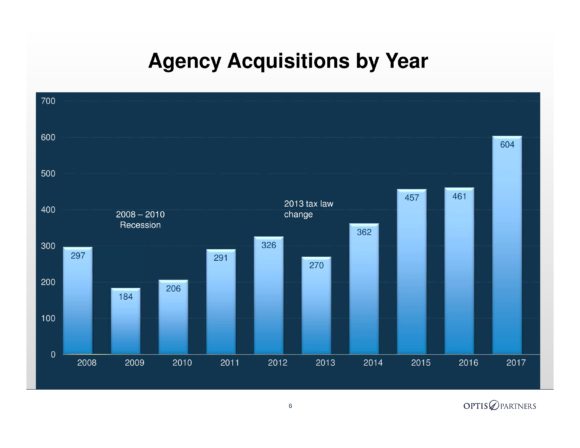 Source: OPTIS Partners
Topics Mergers Agencies Property Casualty
Was this article valuable?
Here are more articles you may enjoy.