This is just in time for the Super Bowl and people who love gambling and football – but don't want to make the trip to Las Vegas.
During Sunday's Super Bowl, an app-based company called WinView is offering fans the chance to win money by predicting events as the game unfolds.
One expert who places insurance for large bets sees a trend developing in enabling people to place an instantaneous bet on an ongoing event and says it could have an upside for insurance professionals.
There's big money in betting on the big game. The American Gaming Association estimates Americans will wager $4.76 billion on Super Bowl 52 between the New England Patriots and Philadelphia Eagles on Sunday.
WinView this week announced it has created a $25,000 jackpot for the Super Bowl if any player can correctly answer every question posed in a quarter of the game through its app.
The app enables players to buy into a group with other fans for contests that last an NFL or NBA quarter, during which 18 to 25 YES/NO live prediction questions are sent straight to users' mobile devices as the action unfolds. Correct answers earn points, and players with the most points at the end of each quarter win money.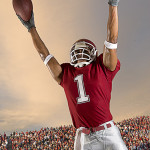 Examples of questions for the Super Bowl include: "Will the first play of the quarter be a run or pass?" "Will New England complete a pass of 15+ yards on this drive?" "Will Philadelphia record a sack or turnover on this drive?"
According to WinView, payouts are immediate at the completion of each quarterly contest.
"I think it's enormously intriguing," Mark Kissick, president of American Hole 'n One, said of the WinView app.
Kissick, who has been involved over the years with insuring payouts for Super Bowl betting, has been keeping on eye on what he sees as a trend in this type of live, in-game betting, particularly in the golf industry.
"The technology's swarming," he said.
A prime example is The Greg Norman Co., which announced at the end of last year the launch of "Shark Experience," a new golf cart that Norman hopes will revolutionize the on-course experience for golfers.
Norman's company partnered with communications and GPS technology firms to produce golf carts equipped with a touchscreen that streams music, videos and programming, as well as a shot tracer and technology that will give golfers an opportunity to win prizes if they get a hole in one.
This is in the same arena with the real-time betting that WinView is providing, says Kissick, who views this technology-driven capability to enable people to instantly bet, make or receive payouts, or both, as a growth opportunity for all businesses – including those in the industry like him who find carriers to insure payouts.
"The business is racing toward that space," he said.
However, what WinView is doing by enabling this type of betting as the game unfolds is practically uninsurable, according to Kissick.
Kissick's firm obtained insurance for 25,000 tournaments last year.
In all of those instances, the underwriters knew specifics such as the details of the course, how many golfers were involved in the tournament, the fact there were no professionals playing.
"You have a chance to underwrite the exposure," he said.
Whereas for what WinView is doing on Sunday there will be little if any hard data to use, he added.
"I don't think I'd no how to place that," Kissick said when asked if he could find insurance for the Super Bowl jackpot.
In fact, it doesn't look like WinView is insuring the payout or any of its bets.
"This is not insured," WinView spokesman Whit Clay wrote in an email reply to a reporter's questions on Friday.
Clay did not elaborate and wouldn't provide comments, but instead referred to a press release announcing the Super Bowl jackpot.
In the release the company says it offers in-game sports predictions paid entry contests in 36 U.S. states "as a real game of skill" for users who are watching a nationally televised pro sports game.
Users are able to join a WinView quarter-long contest, and compete against other fans to accurately predict the plays in real-time. Users who accumulate the most points by the end of the contest win cash prizes. The app also provides free games.
WinView Executive Chairman Tom Rogers in the release stated: "WinView's about turning the fan into the athlete. You make live game-time decisions that determine whether you win or lose, just like your sports heroes. With immediate payouts every quarter, you can talk trash and win cash all game long."
To participate in the WinView jackpot contest, users can download the WinView Games app on iOS or Android.
WinView's paid contests are legal to play in 36 U.S. states, and range from $2 to $100 in entry fees, competing against sports fans ranging from 6 to 25 players, according to the company.
Was this article valuable?
Here are more articles you may enjoy.