Warren Buffett's Berkshire Hathaway Inc. gave him more leeway to make stock buybacks last month. Now, after the company said its cash pile has swelled to $111 billion, some investors are wondering when they might reap the benefits.
Berkshire's second-quarter results released Saturday didn't detail how many shares it was willing to repurchase, or at what price. But investors do know that the window is open: Last month, the company said it wouldn't initiate buybacks until second-quarter earnings were made public.
The catch for some analysts is that the strength of the quarterly performance could make the shares too expensive. Berkshire's Class A shares rose 3 percent to $313,700 at 9:53 a.m. Monday [Aug. 6] in New York. Under the buyback plan, both Buffett, who's chairman and chief executive officer, and Vice Chairman Charles Munger have to find the price "below Berkshire's intrinsic value, conservatively determined," the company said last month.
"The market believes they have the willingness and the ability to buy back stock," Jim Shanahan, an analyst at Edward Jones, said in a phone interview. "It's possible that the stock just moves higher and the buyback opportunity proves fleeting."
Buffett has historically favored investing in companies and snapping up businesses such as railroads and insurers to expand his Omaha, Nebraska-based conglomerate. But prices for some businesses reached all-time highs last year and created a barrier for "virtually all deals" that Berkshire reviewed, Buffett said February in a letter to shareholders.
Cash Mountain
At the same time, his war chest is far higher than he wants, even as Berkshire plows money into holdings such as Apple Inc. Berkshire bought $6.1 billion of equities in the second quarter, while selling or redeeming $4.77 billion, according to regulatory filings. The company's stake in Apple rose to $47.2 billion at the end of June, up from $40.7 billion at March 31, the filings show.
"Even with buying a huge position in Apple, he's having a hard time deploying that cash," said Bill Smead, who oversees about $2.2 billion, including Berkshire shares, at Smead Capital Management.
Buffett has repurchased shares before, agreeing in 2012 to buy back some stock from the estate of a longtime shareholder. Under Berkshire's previous buyback program, the company couldn't pay more than a 20 percent premium over book value for shares. Buffett has used book value as a "rough" measure of the company's intrinsic value, even though he says it understates the value. The new program eliminates that cap.
Book value, which measures assets minus liabilities, climbed to $217,677 per Class A share at the end of the second quarter, the company said Saturday. Those shares traded 40 percent above that as of Friday's close. Some investors, including Steven Check of Check Capital Management, say buybacks could begin shortly. Still, it's hard to gauge how much stock the company could repurchase before the price rises, he said.
Buffett didn't respond to a request for comment left with his assistant.
Buyback Skeptic
Not all investors want Berkshire to dive in and buy its own stock. Thomas Russo, who oversees about $14 billion at Gardner Russo & Gardner, including Berkshire shares, said he'd rather see Buffett wait for potential deals.
"He hasn't built value by buying back stock," Russo said. "He's built value by daring, at moments when others didn't, to buy businesses that he saw had a competitive advantage that would not erode over time."
Berkshire's businesses have been throwing off more cash, helped in part by a stronger U.S. economy. Operating profit surged 67 percent to $6.9 billion in the second quarter, driven by better results at the company's insurers and gains at the railroad.
Underwriting profit at Geico was more than five times the amount during the same period a year earlier. The railroad, BNSF Railway Co., benefited from an accelerating economy, and also from increased demand due to tighter trucking capacity, which has been spurred by a shortage of drivers and more scrutiny on the hours they drive.
"It reminds everyone that Berkshire Hathaway is an all-in bet on the United States economy," Smead said.
Removing the cap on prices for stock buybacks doesn't mean Berkshire will stop hunting for acquisitions, according to Cathy Seifert, an analyst at CFRA Research. Still, if stock markets start falling, making Berkshire shares a more cost-effective option, the company could swoop in to repurchase stock.
"If we get later in the year and we have a correction, we may see them come in," Seifert said.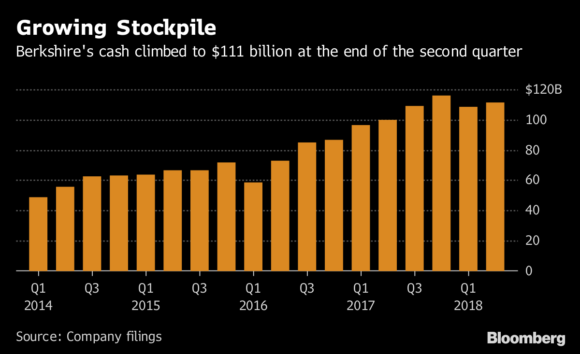 Related:
Copyright 2021 Bloomberg.
Was this article valuable?
Here are more articles you may enjoy.