One-in-five consumers say they would use Amazon or Google for their home insurance, a J.D. Power survey released today shows.
And most of those who took the survey (80 percent) already have insurance with a large national carrier.
Both Google and Amazon have been previously pegged as potential insurance market entrants.
It was reported earlier this month that Amazon was feeling out Europe's top insurance firms to see if they would contribute to a U.K. price comparison website for as-of-yet unnamed products.
Google has been-there done-that in a one-and-done flop. In a rare miss for the Mountain View, Calif-based firm, Google's partners found out in early 2016 that the tech giant's much-ballyhooed foray into online comparison shopping for auto insurance wasn't going forward. The revelation came just over a year after Google made a big splash with news it was getting into the insurance business when a deal between Google and major partners Compare.com and CoverHound was made known to the public.
Tom Super, director of J.D. Powers property/casualty practice, was aware of Google's failure, but believes that wasn't the last of the firm's efforts to get into the insurance business.
"I don't think they're done trying," Super said.
Neither Google nor Amazon spokespersons responded to requests for comment for this article.
The J.D. Power survey is far from the first time the word "disruption" and the insurance industry have been used together in studies, surveys or near-monthly announcements from insurtech startups. However it's the words "Google" and "Amazon" that insurers should take note of, according to Super.
A J.D. Power survey in April showed that only 6 percent of consumers were aware of a few of the popular existing alternative technology-based insurance providers – Lemonade, Metromile, Trove and Sure.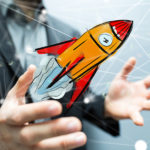 Google and Amazon, on the other hand, already have ample brand awareness.
"They may present a greater threat to home insurers if they decide to move into that space," Super said. "It's Amazon and Google that are potentially a bigger threat if we're thinking about outside disruptors."
He called the survey a "wake-up call" for carriers, which he says should make sure they're prepared to enhance online offerings and engagement for consumers.
Alex Hageli, director of policy, research and international for the Property Casualty Insurers Association of America, believes insurers are already wide awake to the threat of disruption – and they're all well aware of Google's failed effort to make a go of it in insurance.
"If this is a wake-up call, this is now the second wake-up call for the insurance industry," he said of the Google experiment. "They were gone before they even got started."
It's been over a decade since Amazon came in and disrupted the retail industry, so the insurance industry has had plenty of time to prepare for disruption, he said.
"I feel like the insurance industry has fully embraced technology," Hageli said. "It's on par with anyone else that would engage online. The industry is well-equipped to weather competition from other possible entries into the market. I feel that the insurance industry is much better prepared, much better prepared."
When it comes to name recognition and technology, one important generation of consumers seems primed to jump the ship of traditional insurance. The J.D. Power survey showed that Millennials have the highest interest in using either Google or Amazon to insure their homes: 33 percent for Amazon and 23 percent for Google.
"It's not surprising that Millennials would appear to embrace the entrance of entities such as Google and Amazon into the insurance marketplace," said Christopher J. Boggs, executive director of the Big I Virtual University. "After all, these are household names for them; and the name recognition alone, along with, to some extent, the trust this group has for these operations, makes an insurance relationship almost natural."
However, there may be a catch down the line.
These literally virtual relationships might be short-lived when consumers experience a loss that isn't covered because the proper questions weren't asked, or if their insurance needs change during the course of a policy and they need an expert to speak with about their situation, Boggs noted.
"Chatbots and service centers, which I think will be what is required to truly make the alternative sources of insurance marketable in the long-term, know nothing about me," he said. "Yes, they may have some basic data about me and my family in their computer, but they know nothing about me like a live agent who lives and works in my community and truly understands my situation beyond pure data – on a human level."
Among consumers polled by J.D. Power, areas of their relationship with their home insurance provider they say need the greatest improvement are product options/coverages (20 percent), underwriting sophistication (15 percent) and claims (14 percent).
The majority of those polled (75.2 percent) are interested in home telematics to get discounts on insurance for proper home maintenance and security.
This may be a surprise due to an apparent lack of interest from consumers in telematics in the auto industry, but Super believes that the survey indicates a broad interest in telematics and that more auto insurance consumers will embrace it as manufacturers build telematics into vehicles and make adoption ever easier.
"What we're seeing is that as long as you make it easy on the end-consumer, there's a higher level in willingness to adopt the technology," he said. "There tends to be a lot of untapped potential in this area and I think we're at the initial stages in terms of technology and in what insurers can do in this space."
According to the survey, 34 percent of consumers would likely switch to a home insurer that offers smart home technology to take advantage of loss and protection options. Fifty-seven percent of Millennials would likely switch, the survey shows.
A majority of consumers (64 percent) polled reported having some sort of smart tech in their home, such as a smart thermostat, or a smart doorbell, while 46 percent of consumers would be willing to share information gathered by these smart technologies with insurers as long as they see a value in doing so, such as preventing loss or getting discounts on insurance.
Boggs acknowledged that insurtech is dramatically changing the industry, just not the need for people.
"Insuretech is not about a relationship, it's about datapoints," Boggs said. "Ultimately, every seller of insurance is going to have to learn how to develop a human relationship; this means agents will continue to be necessary and can actually work in harmony with insurtech to make the insurance world better for all involved. And once all sides realize that, we can work towards that goal."
He added: "When the newness of insurtech wears off, insurance will return to relationships. The carriers and intermediaries that are the best at allowing and having a personal relationship will be the most successful."
Related:
Was this article valuable?
Here are more articles you may enjoy.